E-book
Implementing Backup and Recovery: The Readiness Guide for the Enterprise
ISBN: 978-0-471-48081-5
360 pages
August 2003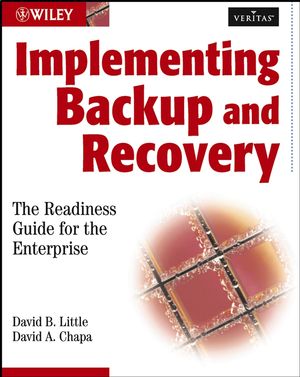 Offers the first comprehensive reference on the topic of backup systems for both UNIX and Windows NT
Provides a complete tutorial on the general topic of data backup systems along with a detailed, step-by-step guide for planning and full implementation of backup systems
Authors include personal tips and strategic and tactical advice gained from many company implementations
Uses VERITAS NetBackup product to illustrate backup system functions
See More
Acknowledgments.
About the Authors.
Introduction.
Part One.  Introduction to Backup and Recovery in the Enterprise Environment.
Chapter 1. Backup and Recovery System Requirements Explained.
Chapter 2. Business Requirements of Backup Systems.
Chapter 3. An Introduction to NetBackup.
Part Two.  Backup Product Tutorial.
Chapter 4. Evaluating Storage Media requirements.
Chapter 5. General Discussion on Configuration.
Chapter 6. Monitoring the Backup Process.
Chapter 7. Evaluating Other Backup-Related Features and Options.
Chapter 8. General Troubleshooting Tips.
Chapter 9. The Expanding Backup System.
Part Three.  The Enterprise Impact of Backup Systems.
Chapter 10. The Future of Backup.
Chapter 11. Major Players in the Backup Arena.
Appendix A. Command-Line Interface Guide.
Appendix B. Glossary.
Appendix C. Tuning Your Backup and Recovery Application.
Appendix D. Disaster Recovery Planning Kit: From End to Beginning.
Appendix E. Business Impact Analysis Planning Kit: The Storm Before the Calm.
Appendix F. Performance Test Tech Note.
Appendix G. Netbackup Performance Tuning on Windows.
Index.
See More
David B. Little joines VERITAS Software in April 1997. He was a support engineer and helped develop the multi-tiered support model that is a conerstone of the world-class support organization. In 1999, he joined the Sales department as a technical product specialist. In this capacity he has travelled around the world promoting NetBackup and frequently speaking at user conferences. He also teaches NetBackup to internal VERITAS engineers and consultants as well as partners, resellers, and customers.
Prior to joining VERITAS, Dave worked at Control Data Corporation/Control Data Systems Incorporated for almost 30 years. He worked as a software support engineer for NetBackup and various UNIX operating systems. He was also the leading support engineeer for the super computers including the Cyber 205 and the ETA10. 
David A. Chapa wears many hats at DataStaff (www.datastaff.com). In his official role he is the Consulting Manager responsible for managing the vision and direction of the consulting practices. His is also co-founder of Gray House Solutions (www.GrayHouseSolutions.com), a software company providing integrated disaster recovery solutions whose flagship product is Duplication Suite.
Prior to joining DataStaff, he held several senior level technical positions with various software manufacturers in the Backup Storage management market space. His experience spans 18 years in the computer industry with such companies as Cheyenne Software, Unisys, OpenVision, and NSI Software, with the last 10 years focused solely on data availability and storage. 
See More