E-book
Make Money with Small Income Properties
ISBN: 978-0-471-48115-7
228 pages
April 2004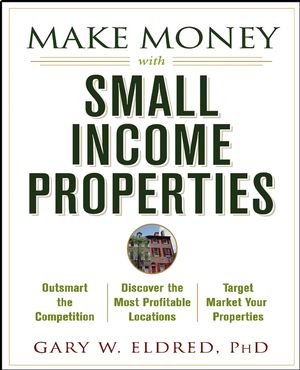 In the Make Money series, renowned real estate investor and bestselling author Gary W. Eldred shows you how to profit from the safest, most reliable wealth builder in the world-real estate. With coverage of all the fundamentals-from finding the right properties to financing and managing them-Eldred shows you the ropes so you don't have to learn important lessons the hard way. Unlike general guides to investing in real estate, each title in the Make Money series gives you the specialized expertise necessary to fully profit from a select investment strategy.

Make Money with Small Income Properties shows you how to grow your fortune by purchasing and managing multi-unit rental properties-from duplexes to twenty-four-unit buildings. Compared to other real estate investments, small income properties offer higher returns, positive cash flows, and easy-qualifying seller financing. The expert guidance you'll find here illustrates how you can boost property values and increase rent collections through effective and friendly management. This simple-to-follow guide offers the knowledge you need to find properties that will increase in value, manage them effectively (rule one: never think of yourself as a landlord), and maximize your profits. Make Money with Small Income Properties will show you how to:
* Purchase and profit from affordable rental properties
* Develop your entrepreneurial strategy
* Understand the economy and pick the right neighborhoods
* Size up the market and your competition
* Carve out a target market
* Accurately price properties
* Build equity fast with easy improvements
* Create ways to generate more income
See More
Introduction: What You Need to Get Started.
1. Profit with Income Properties.
2. Craft Your Entrepreneurial Strategy.
3.Where's the Local Economy Headed?
4. Size Up the Competition.
5. Go After a Target Market.
6. Is the Property a Good Deal?
7. Collect More Rents.
8. Build Equity Fast with Sharp Interiors.
9. Generate More Income.
10. Creative Ways to Make More Money.
Conclusion: Investing in Action: The Bayside Apartments.
Index.
See More
GARY W. ELDRED, PhD, has been involved in more than a hundred real estate projects as a buyer, seller, or investment consultant. Dr. Eldred has also taught numerous graduate courses in real estate at America's top universities, including Stanford, the University of Virginia, and the University of Illinois. He is also the author of Make Money with Condominiums and Townhouses and Make Money with Fixer-Uppers and Renovations, and coauthor of the bestseller Investing in Real Estate, Fourth Edition, all published by Wiley.
See More