Fraud Risk Assessment Guide
ISBN: 978-0-471-48168-3
June 2003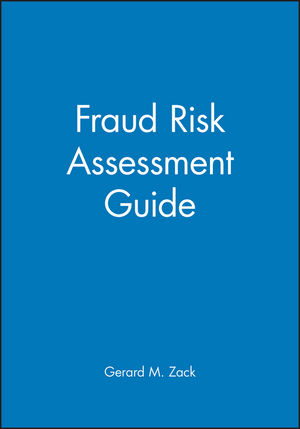 The
Fraud Risk Assessment Guide
is a series of checklists that coincide with the organization-wide model of fraud deterrence explained in the book,
Fraud and Abuse in Nonprofit Organizations: A Guide to Prevention and Detection
.
The checklists in this Guide are designed to identify many of the most important financial controls and non-financial policies and procedures that aid in the prevention, detection, and deterrence of fraud and abuse— both from within the organization and from external sources. Each of the controls, policies, and procedures identified in the Guide are explained in detail in the companion book, Fraud and Abuse in Nonprofit Organizations: A Guide to Prevention and Detection.
Who should prepare the checklists in this Guide? One of the keys to making the Guide most useful is to have each checklist prepared by persons who are both:
Adequately trained and educated in the subject matter
Independent of the persons directly involved in the activity being evaluated
These characteristics may be present within the organization— such as by having the checklists prepared by members of other departments or by involving members of the audit committee or board of directors. Another option is to utilize an outside firm that specializes in fraud prevention (this approach has the added benefit of further improving independence and objectivity in the evaluation of an organization's system of fraud deterrence).
The end result of utilizing the Guide will be the identification of areas of fraud control in which organizational policies and procedures can be improved (each "no" answer on the checklist represents a possible weakness in the organization's defenses against fraud and abuse). These results should be reviewed and evaluated by senior management, the audit committee, and the board of directors, who has ultimate responsibility for safeguarding the organization's assets.
See More