The Duchess of Windsor: The Secret Life, Revised and Updated Edition
ISBN: 978-0-471-48523-0
560 pages
October 2004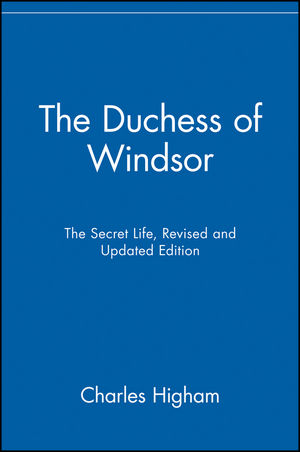 "Deeply researched, valuable."
–The New York Times Book Review
"A shocker . . . stunning . . . absolutely hypnotic. . . . A world of beautiful houses, ceaseless travel, trendsetting fashion, and powerful figures. . . . Fascinating revelations."
–Cosmopolitan
Wallis, the Duchess of Windsor, was one of the most famous women in history, the American divorcée who captured the King of England, Edward VIII, and cost him his throne. Until Charles Higham's 1.3 million-copy bestseller, much of her life was a glamorous mystery. Now, fifteen years later, major new documentary evidence, classified at the time, makes for a book far more sensational than the original bestseller. Drawing from long-suppressed archives in France, England, and the United States, Higham has uncovered the duchess's passionate affair with a top-ranking political figure, the duke's romantic involvement with a male equerry, the secret radio broadcasts the couple made to Hitler, and the blackmail plot in Paris that almost brought them–and the British royal family–to ruin. This updated new edition of The Duchess of Windsor is essential reading.
"Higham's best. . . . Serious, deliciously fresh . . . documented by newly opened secret government files in the U.S. and England."
–Kirkus Reviews
"Smooth and entertaining."
–The Plain Dealer (Cleveland)
"An excellent biography . . . alert to every nuance."
–The London Sunday Telegraph
See More
Author's Note.
1. A Baltimore Childhood.
2. A Stubborn Young Lady.
3. Running Up the Ladder.
4. A Stylish Marriage.
5. China.
6. Ernest.
7. The Prince.
8. Moving Toward the Throne.
9. Almost Glory.
10. Abdication.
11. Exile.
12. Wedding of the Decade.
13. Outer Darkness.
14. A Dark Plot.
15. Elba.
16. Crime of the Century.
17. Return to Europe.
18. Wandering Years.
19. Late Afternoon.
20. Evening and Night.
Notes on Sources.
Index.
See More
Charles Higham is the author of many bestselling books, including Howard Hughes, a basis of The Aviator, a major motion picture starring Leonardo DiCaprio, as well as acclaimed biographies of Katharine Hepburn, Errol Flynn, Bette Davis, and Marlene Dietrich. He received the Prix des Créateurs from the Académie Française and was a Hollywood feature writer for the New York Times from 1970 to 1980.
See More