Worlds of E-Commerce: Economic, Geographical and Social Dimensions
ISBN: 978-0-471-49455-3
372 pages
March 2001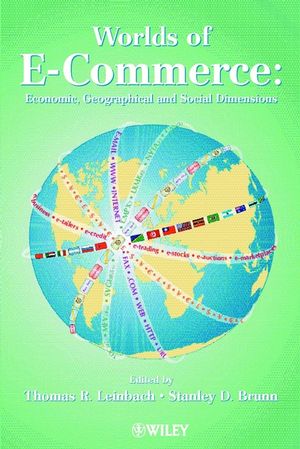 Worlds of E-Commerce
Economic, Geographical and Social Dimensions
THOMAS R. LEINBACH and STANLEY D. BRUNN, both of the University of Kentucky, USA
Worlds of Electronic Commerce attempts to capture the enormous international impact of the recent explosion in information and communication technologies. It stands alone as the first book to tackle the major economic, social, and political issues that electronic commerce raises from interdisciplinary and international perspectives.
Including contributions from leading international scholars from geography, economics, and public policy, it addresses theoretical and conceptual issues and presents case studies on how retailing, job searches, banking and finance, telecommunications, and government regulation are changing with the introduction and diffusion of the Internet and various electronic services. References to rapid developments in these fields are drawn from the United States, United Kingdom, Netherlands, Japan, Singapore, Australia, Russia, and the developing world. The implications of these developments on consumer behaviour, existing and new firms, regulatory agencies, and interstate economic development are also discussed.
In summary, the book presents an excellent background for those wanting scholarly treatments of (a) the background of e-commerce, (b) the growing importance of Information and Communication Technologies, and (c) case studies related to specific services making use of e-commerce.
READERSHIP: Academics and Students in Information Economies, Information and Communications Technologies, Economics, Marketing, Retailing, Advertising, Communications, Technology Diffusion, Geography Dealing with Electronic Commerce
See More
List of Contributors.

Preface and Acknowledgements.

Introduction: E-Commerce: Definitions, Dimensions and Constraints (T. Leinbach & S. Brunn).
E-COMMERCE: MEANING, THEORY, AND IMPACTS.
Emergence of the Digital Economy and E-Commerce (T. Leinbach).
Towards an Economics of the Internet and E-Commerce (K. Button & S. Taylor).
Beyond Transaction Costs: E-Commerce and the Power of the Internet Dataspace (M. Kenney & J. Curry).
Towards a Location Theory of Distributed Computing and E-Commerce (M. Goodchild).

Maybe the Death of Distance, but not the End of Geography: The Internet as a Network (E. Malecki & S. Gorman).
E-COMMERCE IN FIRM, REGIONAL, AND INTERNATIONAL CONTEXT.
The Information Society, Japanese Style: Corner Stores as Hubs for E-Commerce Access (Y. Aoyama).
Internet Economies and the Online Recruiting Industry (S. Cobb).
Grounding Global Flows: Constructing an E-Commerce Hub in Singapore (N. Coe & H. Yeung).
Finding the Source of Amazon.com: Examining the Store with the 'Earth's Biggest Selection' (M. Dodge).
Electronic Banking and the City System in the Netherlands (M. van Geenhuizen & P. Nijkamp).
Global Electronic Spaces: Singapore's Role in the Foreign Exchange Market in the Asia-Pacific Region (J. Langdale).
E-COMMERCE: FINANCIAL, LEGAL, AND STATE DIMENSIONS.

The Currency of Currency: Speed, Sovereignty, and Electronic Finance (B. Warf & D. Purcell).
Information and Communication Technologies and the Integration of European Derivatives Markets (D. Power).
'Dry Counties' in Cyberspace: Governance and Enforcement without Geographic Borders (P. Regan).
Dot com Development: Are IT Lines Better than Tractors? (M. Wilson).
Corporate Nations: The Emergence of New Sovereignties (T. Edwards).
References.
Index.
See More
Buy Both and Save 25%!
Worlds of E-Commerce: Economic, Geographical and Social Dimensions (US $205.95)
-and- Economic Geology: Principles and Practice (US $102.95)
Total List Price: US $308.90
Discounted Price: US $231.67 (Save: US $77.23)
Cannot be combined with any other offers. Learn more.