Interdisciplinary Architecture
ISBN: 978-0-471-49807-0
224 pages
August 2001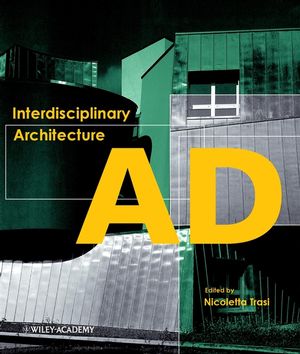 Takes a holistic view of the design of our environment, covering historical precedents, contemporary developments, and possible future trends.
* Comprehensively illustrated with many lavish photographs, as well as plans and drawings.
* Material draws information from cutting-edge articles and ideas.
See More
Interdisciplinary Architecture (Nicoletta Trasi).

Transgressions (Robert Maxwell).

Art and Architecture (Clare Melhuish).

Architectural Guilt (Neil Spiller).

Art Concept, Architectural Process (Michael Spens).

Frames of Mind (Will Alsop).

Buildings which depict a Better World A Critique of Harry Gilonis (O M Ungers and Ian Hamilton Finlay).

Interviewed by Elsa Laaksonen (James Turrell).

Art and Architecture (Pawson Williams Architects).

Art and Architecture (Cezary M Bednarski and Peter Fink).

Leeds Chinese Community Centre (Bauman Lyons Architects).

Little Differences Christ Church Picture Gallery, Oxford (Richard Wentworth).

Colour in the Looking Glass (Tom Porter).

Reading Form and Space: the Role of Colour in the City (Galen Minah).

Colour in the City (Cliff Moughtin, Taner Oc and Steven Tiesdell).

Seeing Colour (Michael Lancaster).

Designing with Colour (Cesar Pelli).

San Antonio Library, San Antonio, Texas Solana, Dallas, Texas (Legorreta Architects).

Museum of Ancielnt Arles, Arles, France (Henri Ciriani).

Vitra International Headquarters, Basel, Switzerland (Frank O Gehry).

Museum of Science and Industry, Tampa, Florida (Antoine Peacock).

Chiat/Day Building, Venice, California (Frank Gehry in collaboration with Claes Oldenburg and Coosje van Bruggen).

Towards the Perfected Office (Charles Jencks).

The Myth of LA and the Reinvention of the City (James Steele).

The Pop and the Popular at Disney (Tobert A M Stern).

Some Thoughts on Pop and Permanent Architecture (Mark Fisher).

Tracing Architecture (Nikos Georgiadis).

'Unfinished Buildings' (Necdet Teymur).

The Spatial Model of the Labyrinth (Philippos Oreopoulos).

The Sense of Touch (Richard Sennett).

Citizens as Therapists (Andrew Samuels).

In the Street of the Philhellenes (Andreas Empirikos).

A Shadow in the Crowd (Pavel Bü chler).

Discourse, Figure: Digression on the Lack of Reality (Jean-Franç ois Lyotard).

Space-Time and the Politics of Location (Doreen Massey).

Uninflection and Stubborn Architecture (Roger Connah).

The Greenhouse Fragment, Terrasson Lavilledieu, Dordogne, France (Ian Ritchie Architects).

Villa Malraux Artists' Residences and Studios, Maido Road, Reunion Island Museum and Memorial, Soweto, South Africa (Franç ois Roche).

Housing Proposal, Palmdale, California (Janek Bielski).

Urbanite Light, Helsinki (Livady Architects).

Patkau Architects (Jim Taggart).

High Sierras Cabins, Hope Valley, California (Jones Partners).

Zimmer Stair, University of Cincinnati, Ohio (Jones Partners).

Castle Walkways, Castelldefels, Barcelona (Lapeñ a-Torres Tur).

Ski + Skurf Cable Ski Kiosk, Bli Bli, Australia (Clare Design).

Chromata, Apartments and Swimming Pool, Imerovigli, Santorini (Antithesis Architecture).

Black Stone Terrace, Apartments, Swimming Pools and Spa, Imerovigli, Santorini (Antithesis Architecture).

'At the Same Place': The New Acropolis Museum, Athens (Nikos Georgiadis).
See More
NICOLETTA TRASI was born in Rome, Italy in 1963, and graduated in Architecture at the University of Rome 'La Sapienza' where she obtained a PhD in Architectural Composition (Theories of Architecture). Since 1990 she has been involved in research activities in France, obtaining the CEAA specialisation (Certificat d'É tudes Approfondies en Architecture) in Theories of Architecture, and a DEA (Diplô me d'É tudes Approfondies) at the Sorbonne University in Paris where she has undertaken studies for a PhD in the History of Contemporary Art. She is now a lecturer at the faculty of Architecture in Rome and collaborates with the University of Pescara, whilst continuing in architectural practice. The author of numerous articles and essays, her most recent publication (in collaboration with Paola Misino) is André Wogenscky, Raisons profondes de la forme published by Le Moniteur.
See More