New Economy Edge: Strategies and Techniques for Boosting Online Profitability
ISBN: 978-0-471-49844-5
276 pages
August 2001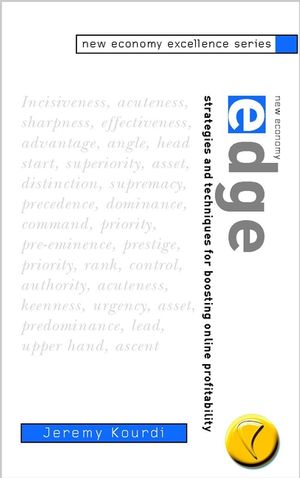 The Wiley New Economy Excellence series has a simple aim - to help managers create and sustain competitive advantage in the new economy. Written by series editor Jeremy Kourdi, New Economy Edge is an inspiring look at how to create and develop profitable online activities by grasping the impact of the Internet on employees, markets, customers and business partners. Features include a review of products and services suitable for new channels, a guide to integrating 'clicks' into 'bricks', and an exploration of the skills required to take a business forward once a new direction has been set.

Other titles in the New Economy Excellence series include:

New Economy Energy: Unleashing Knowledge for Competitive Advantage
Sultan Kermally - 0471499633
New Economy Expression: Redefining Marketing in the Multi-Channel Age
David Mercer - 0471500089
New Economy Emotion: Engaging Customer Passion with e-CRM
Alfredo Zingale and Matthias Arndt - 0470841354
See More
Acknowledgements.

Introduction.

Understanding the Nature of Online Business.

Focusing the Profit-Driven Online Business.

Leading and Building the Online Business.

Developing Your Markets to Increase Profitability.

Internet Pricing.

Developing an Internet Sales Strategy.

Building Brands and Customer Loyalty.

Using the Internet for Profitable Product Innovation.

Suppliers and Supply Chains: Reducing Costs and Adding Value.

Managing Knowledge to Enhance Profitability.

Financial Techniques to Reduce Costs, Minimise Risk and Boost Profits Online.

Resource Building: The Key to the Competitive Online Business.

Online Solutions: Delivering Profitability.

References.

Bibliography.

Subject Index.
See More
JEREMY KOURDI is responsible for The Economist Conferences activities in Europe, the Middle East and Africa. This includes London and Vienna conferences with a combined total of 46 events in 2000-01. Jeremy started his career with Longman, before joining Reed-Elsevier. During 1992-3 he was Business Operations Manager with what is now the CIPD. From 1993-6 he was Head of Publishing at The Institute of Management, and was then Publishing Director for the Hawksmere Group, as well as working as a consultant with IBC Conferences, London Business School, IMD and ING Barings. He has an MA in International Relations, and is a Fellow of the Royal Society of Arts. He is author of a number of business books.
See More