Work the Web, Business-to-Business Bible
ISBN: 978-0-471-49896-4
196 pages
January 2001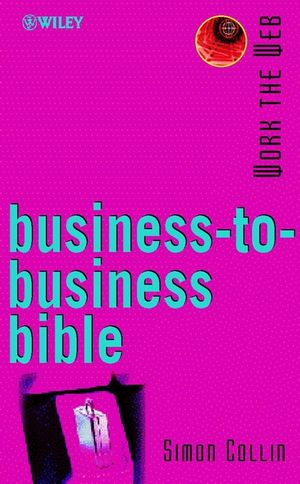 In this comprehensive guide Simon Collin provides tips and advice on using the Internet to search (and research) everything from getting news delivered by e-mail to organising travel and buying equipment on-line.
This one-stop shop is packed with contact details and advice on where to look and how to look for what you need. It's guaranteed to save you valuable time and resources. The Business-to-Business Bible will be an invaluable source of reference for anyone using the Internet.
See More
Business resources on the Internet
Finding a business online
Accounting
Business advice
Business education
Starting a business
Business to business
Office supplies
Offices and property
Financial management
Global business
Human resources and staff
News
Reference and research
Sales and marketing
Building websites
E-commerce
Stocks and shares
Travel
Discussing business
Appendix -
Getting online
Getting online-directory
See More
SIMON COLLIN is a freelance columnist and an expert on all aspects of E-business. He is author of the E-marketing and E-commerce, also published by John Wiley Sons.
See More