Nickel and Human Health: Current Perspectives
ISBN: 978-0-471-50076-6
704 pages
September 1992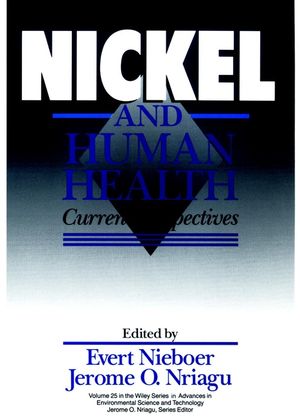 Chromium in the Natural and Human Environments Edited by Jerome O. Nriagu and Evert Nieboer "Essential reading for researchers and students of environmental and occupational health effects of metals." --The Science of the Total Environment Representing the most comprehensive coverage to date on the uses of chromium, its sources (both natural and anthropogenic), and occurrence in the air, water, and soil, this timely volume addresses the growing concern about chromium's ultimate effect on the environment. The toxicity of chromium to terrestrial and aquatic biota is examined in relation to its chemistry and biochemistry, with discussion of toxicological models of chromium hypersensitivity, mutagenicity, carcinogenicity, and toxicokinetics. Features include graphical representation of the voluminous mutagenicity and animal carcinogenicity data according to chromium compound type. 1988 (0 471-85643-6) 571 pp. Cadmium in the Aquatic Environment Edited by Jerome O. Nriagu and John B. Sprague "This book contains a wealth of information useful to many different types of scientists." --Journal of the American Chemical Society Considered a priority natural water contaminant, cadmium has, like other toxic metals, been closely monitored. Featuring the latest research of some of the world's leading environmental specialists, this important text is a comprehensive look at the sources, distribution, and fate of cadmium in aquatic ecosystems, as well as the biocycling and ecotoxicity of cadmium in natural waters. The book's topical breadth also includes cadmium associations in freshwater and marine sediments, the latest techniques used for cadmium detection, and the scientific rationale needed to establish water quality criteria and standards for the presence of cadmium. 1987 (0 471-85884-6)272pp. Food Contamination From Environmental Sources Edited by Jerome O. Nriagu and Milagros S. Simmons "The quality of the writing is uniformly high.the book will serve as a valuable reference to graduate-level readers in food science, public health, and toxicology, as well as to environmental biologists and chemists." --Choice The exposure of all levels of the human food chain to environmental contaminants has transformed the human body into a biomonitor of environmental pollutants. This international collection of 22 studies from leading researchers examines every facet of the problem. The book's far-ranging and detailed coverage includes the detection, sources, distribution, speciation, and bioavailability of environmental contaminants and their metabolites in various food products, as well as the toxicological and health significance of the observed contaminant levels in foods. 1990 (0 471-50891-8) 785 pp.
See More
Partial table of contents:

Biological Utilization of Nickel (R. Hausinger).

Occupational Exposures to Nickel (E. Nieboer).

Toxicokinetics of Nickel in Humans (F. Sunderman).

Urinary Excretion of Nickel in Nickel-Chromium Electroplaters (M. White & A. Boran).

Renal Toxicity of Nickel in Humans (W. Sanford & E. Nieboer).

Nickel Contact Hypersensitivity (T. Menne).

Nickel and The Immune System: Current Concepts (S. Nicklin & G. Nielsen).

Role of Ni(II) in Mutation (N. Christie, et al.).

Animal Studies: An Overview (K. Kasprzak).

Inhalation Toxicity of Nickel Compounds (J. Dunnick, et al.).

Nickel-Induced Derangements of Thermoregulation (S. Hopfer & F. Sunderman).

Placental Metabolism of Nickel (B. Sarkar, et al.).

Recent Follow-up of Nickel Refinery Workers in Norway and Respiratory Cancer (A. Andersen).

Index.
See More
About the editors EVERT NIEBOER is Professor of Toxicology, Department of Biochemistry and Occupational Health Program, McMaster University, Ontario. Since his arrival at McMaster in 1980, Dr. Nieboer's research interests have centered on the human toxicity of metals with an emphasis on physicochemical, metabolic, and molecular aspects of nickel carcinogenesis, the renal clearance and toxicity of metals, and the use of biological monitoring to assess worker exposure and health risks. Dr. Nieboer's research team at McMaster has prepared a number of health effects documents for industrial and governmental agencies. The author's extensive published work has centered on the biological roles and trace analysis of metals. Dr. Nieboer received a BSc in chemistry and an MSc in analytical chemistry from McMaster University and a PhD in analytical/organic chemistry from the University of Waterloo. JEROME O. NRIAGU is a research scientist with the National Water Research Institute, Burlington, Ontario, and Adjunct Professor at the University of Waterloo. He is the editor of the Wiley Series in Advances in Environmental Science and Technology and has edited, among many other volumes, Environmental Impacts of Smelters, Toxic Contaminants in the Great Lakes, and Aquatic Toxicolog. Dr. Nriagu received the BSc and DSc degrees from the University of Ibadan, Nigeria, an MS from the University of Wisconsin, Madison, and a PhD in geochemistry from the University of Toronto. He has published extensively in leading geochemical and environmental science journals, and has received a number of awards for his work.
See More