The Speculator's Edge: Strategies for Profit in the Futures Markets
ISBN: 978-0-471-50360-6
304 pages
May 1989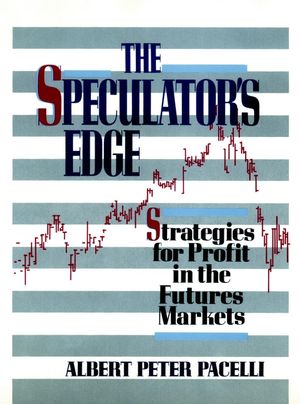 Successful futures and stock traders know that speculation--short-term investing--is the only way to make real money in the market. This guide shows how to win at trading on the futures stock markets by recognizing cyclical price trends, timing trades in accordance with key technical signals, tracking movements in or out of markets by various categories of investors, and other strategies. Pacelli shows you how to get started in futures trading, how to take advantage of markets dominated by large institutions, and how to enter and exit trades to guarantee the largest possible profits.
See More
THE EDGE.

Econ 101: Economics for Poets and Speculators.

Hard Work Will Get You Nowhere if You Don't Know What Your Job Is.

For Every Solution There is a Problem.

If the Markets Really Walked Randomly, How Would They Ever Get Where They're Going?

Contrary Thinking about Contrary Thinking.

Marsha's -12,000 Raincoat.

Money, the Only Commodity that Counts.

A Previously Overlooked Use for Shirt Cardboard.

Never Play Poker with Cannibals.

PUTTING THE EDGE TO WORK.

Listen to Your Aunt Gertrude.

Buying the Apocalypse, Now.

Monday is a Bad Day.

Dinosaurs vs. Cockroaches.

SPECULATORS R US Cliff Diving in Acapulco.

The Great Attractor.

You Can Skin the Cat or the Cat Can Skin You.

A Crash of Principles.

Bibliography.

Index.
See More