The Contract and Fee-Setting Guide for Consultants and Professionals
ISBN: 978-0-471-51538-8
272 pages
January 1990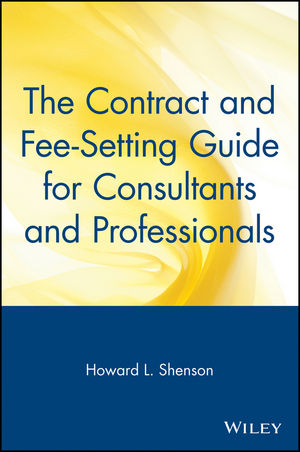 Expert advice on how to strike a fair deal and command a fair price. The Contract and Fee-Setting Guide for Consultants & Professionals No matter how knowledgeable you are in your field..No matter how great your track record..No matter how expert your advice or impressive your credentials . you jeopardize your client base if you do not instill every phase of your practice with a consummate professionalism. And for sharp clients, the first clear signs of such a savvy professionalism are the ability to set fees at a fair market price and offer neat, straightforward contracts with clearly delineated terms. This book teaches you, in a few days, what it traditionally took people half a lifetime to learn through trial and error. In writing it, the author drew on his more than twenty years as a business consultant, lecturer, and author to offer you tips on how to ask for and get the fees you deserve and to establish contract terms that are in the best interests of you and your clients. Throughout he shares his insider's expertise on:
* Determining market value for your services
* Establishing per diem or per-project rates and calculating overhead
* Advantages and disadvantages of various systems of fee-setting and billing
* Six major goals of every contract
* Negotiating the contract and avoiding legal pitfalls
See More
SETTING YOUR FEES.

The Fee-Setting Process.

CREATING AN EFFECTIVE PROPOSAL.

Finding the Right Payment Structure.

What a Proposal Does for You.

The Proposal-Writing Process.

THE CONSULTING CONTRACT.

Contracts and Your Lawyer.

Valid Forms of a Contract.

Performance Contracts.

REPORTING AND FEE COLLECTING.

Interim and Progress Reports.

Writing and Submitting the Final Report.

Fee Collecting.

Appendices.

Index.
See More
Howard L. Shenson has twenty years' experience as a business consultant, renowned lecturer (over 100,000 people have attended his seminars on marketing consulting and professionals services), and bestselling author. He is the editor and publisher of the Professional Consultant and Information Marketing Report.
See More