Alzheimer's Disease : Advances in Etiology, Pathogenesis and Therapeutics
ISBN: 978-0-471-52176-1
888 pages
August 2001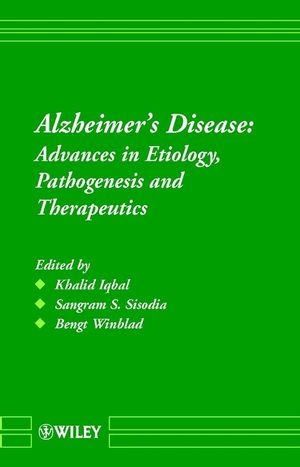 Alzheimer's Disease is an ever present problem affecting millions of people around the world and, as people's average lifespan lengthens, its prevalence is set to increase. A global effort is needed to combat the disease, including research to investigate the causes, development of effective treatments and, ultimately, prevention of the disease. Published every two years, these timely books discuss the very latest research.

This new volume provides a unique source of reference to the important work being done in this field, it gives academics and clinicians an opportunity to learn about cutting edge developments and covers all aspects of Alzheimer's Disease, including diagnosis, clinical course, epidemiological course and therapeutics and disease mechanisms.

Alzheimer's Disease: Advances in Etiology, Pathogenesis and Therapeutics will provide essential information for basic and clinical researchers in Alzheimer's Disease and other dementias as well as for those who care for patients.
See More
List of Contributors.
Dedications.
Scientists Honored for Pioneering Research.
Preface.
Acknowledgments.
PART I: EPIDEMIOLOGY AND RISK FACTORS.
The Transition from Normal Functioning to Dementia in the Aging Population (L. Fratiglioni, et al.).
Epidemiology of Alzheimer's Disease and Dementia: Advances and Challenges (R. Katzman).
Epidemiology of Dementia in Down's Syndrome (N. Schupf).
PART II: GENETICS.
A Genomic Search for Alzheimer's Disease Genes (J. Haines, et al.).
Candidate Genes Showing No Evidence of Association with Alzheimer's Disease: Results of the NIMH-AD Genetics Initiative (L. Bertram, et al.).
Familial Alzheimer's Disease with Spastic Paraparesis Associated with a Mutation at Codon 261 of the Presenilin 1 Gene (M. Farlow, et al.).
Genetic Analysis of the Presenilin Pathway in Drosophila (I. Livne-Bar & G. Boulianne).
Molecular Genetics and Transgenic Modeling of the Tauopathies (J. Lewis, et al.).
Regulation of Four-repeat tau Expression: Interactions between Exon and Intron Splicing Regulatory Sequences (I. D'Souza & G. Schellenberg).
PART III: DIAGNOSIS AND CLINICAL COURSE.
Preclinical Prediction of AD: Relation Between Neuropsychological and Neuroimaging Findings (M. Albert, et al.).
Neuropsychological Detection of Preclinical Alzheimer's Disease: Results of a Neuropathological Series of 'Normal' Controls (K. Welsh-Bohmer, et al.).
Potentially Reversible Conditions in Memory Clinic Patients (A.-M. Hejl, et al.).
The Alzheimer's Disease Centers' Neuropsychological Database Initiative: A Resource for Alzheimer's Disease Prevention Trials (M. Grundman, et al.).
Mild Cognitive Impairment: Transition from Aging to Alzheimer's Disease (R. Petersen).
Brain Functional Imaging in Early and Preclinical Alzheimer's Disease (A. Nordberg, et al.).
Amyloid, PHF-tau, Ubiquitin and Synaptic Markers in the Progression of Alzheimer's Disease: Immunochemical Analyses of Frontal Cortex from Prospectively Studied Elderly Humans (D. Wang, et al.).
Imaging the Consequences of Alzheimer's Disease Pathology (Y. Stern & S. Small).
Influence of apoE Genotype and PET Brain Imaging on Preclinical Prediction of Alzheimer's Disease (G. Small, et al.).
Overview of Vascular Dementia (W. Markesbery).
Clinical and Imaging Characteristics of Vascular Dementia in a Memory Clinic (F. Pasquier, et al.).
MRI of Entorhinal Cortex and Hippocampus in Alzheimer's Disease, Subcortical Ischemic Vascular Dementia and Mixed Dementia (N. Schuff, et al.).
Olfactory Function and Event-related Potentials in Alzheimer's Disease (C. Murphy & C. Morgan).
Phenotypic Differences in Cholinergic Markers within the Nucleus Basalis in Individuals with Mild Cognitive Impairment (E. Mufson, et al.).
Evaluating CNS Biomarkers for Alzheimer's Disease (J. Growdon).
CSF Markers for Early Alzheimer's Disease (K. Blennow, et al.).
CSF-Phospho-tau (181P) as a Promising Marker for Discriminating Alzheimer's from Dementia with Lewy Bodies (E. Vanmechelen, et al.).
Increased Levels of a Minor Glycoform of Acetylcholinesterase in Alzheimer's Disease Brain and Cerebrospinal Fluid (J. Sáez-Valero, et al.).
Plasma β-Amyloid as a Surrogate Genetic Marker in Late-onset Alzheimer's Disease (N. Taner, et al.).
Levels of Total and Deposited Aβ are Correlated with Dementia (S. Parvathy, et al.).
What Should We Tell Patients Attending a Memory Disorders Clinic About Their Diagnosis? (C. Maguire & R. Slinn)
PART IV: MECHANISMS OF NEURODEGENERATION.
Innate Immunity, Autotoxicity and Degenerative Neurologies (P. McGeer, et al.).
Neuroinflammatory Responses in the Alzheimer's Disease Brain Promote the Oxidative Post-translational Modification of Amyloid Deposits (C. Atwood, et al.).
Plasma Antioxidants and Oxidative DNA Damage in Lymphocytes from Normal Aged People and Alzheimer's Disease Patients (P. Mecocci, et al.).
Oxidative Damage and Antioxidant Responses in Alzheimer's Disease (G. Perry, et al.).
Cyclooxygenase (COX)-2 and Clinical Progression of Alzheimer's Disease Dementia: Implications in the Role of Neuronal COX-2 in Cell Cycle (G. Pasinetti).
Parallels between the Redox Properties and Toxicity of Aβ in Alzheimer's Disease and Mutant Cu/Zn-SOD in Familial Amyotrophic Lateral Sclerosis (A. Bush).
β-Amyloid Toxicity: Diverse Biological Activities Drive Multiple Cellular Mechanisms (C. Cotman, et al.).
Mechanisms of Aβ Production and Aβ Degradation: Routes to the Treatment of Alzheimer's Disease (D. Selkoe, et al.).
A High Fat, High Cholesterol Diet Accelerates β-Amyloid Accumulation in the CNS of a Transgenic Mouse Model of Alzheimer's Disease (L. Refolo, et al.).
Electron Microscopy and X-ray Diffraction Studies further Confirm the Efficacy of PTI-00703TM (Cat's Claw Derivative) as a Potential Inhibitor of Alzheimer's β-Amyloid Protein Fibrillogenesis (G. Castillo, et al.).
Accelerated Aβ Generation in a Cell Model of Alzheimer's Disease-related Endosomal-Lysosomal System Upregulation (P. Mathews, et al.).
The Amyloid Precursor Protein V717I Mutation Increases Susceptibility to Cell Death in a Cholesterol-dependent Manner (L. Puglielli, et al.).
Intracellular and Secreted Aβ 42/40 Ratios Are Differently Influenced by APP Mutations (H. Grimm, et al.).
Familial British Dementia (J. Ghiso, et al.).
Cellular Metabolism of Familial British Dementia-associated BRI-L (S.-H. Kim & S. Sisodia).
A Decamer Duplication in the BRI Gene Originates a de novo Amyloid Peptide that Causes Dementia in a Danish Kindred (R. Vidal, et al.).
Familial Alzheimer's Disease-linked Mutant Presenilins Attenuate Capacitative Calcium Entry (I. Cheng, et al.).
Presenilin-1 Is a Regulatory Component of the Cadherin CellAdhesion Complex: Implications for Alzheimer's Disease (A. Georgakopoulos, et al.).
Presenilins and Notch Signaling Pathway (W. Song & B. Yankner).
Functional Consequences of the Association of PSI with β-Catenin (S. Soriano, et al.).
A Novel Protease Active Site Motif Conserved in Presenilins and Polytopic Bacterial Aspartyl Proteases? (H. Steiner & C. Haass).
The Unfolded Protein Response-mediated Upregulation of BiP and CHOP Is not Affected by Presenilin Expression (N. Sato & G. Thinakaran).
Mechanisms of α-Synuclein and NAC Fibrillogenesis (M. Hashimoto, et al.).
Neurofibrillary Degeneration: Patterns of Tau Isoform Expression (A. Delacourte).
Phosphorylation, Microtubule Binding and Aggregation of Tau Protein in Alzheimer's Disease (J. Avila, et al.).
Phosphorylation of Protein Tau and Rescue of Protein Tau-induced Axonopathy by GSK-3β in GSK-3βxhtau40 Double Transgenic Mice (K. Spittaels, et al.).
Pathogenic Implication of Altered Tau Properties Caused by FTDP-17 Mutations (P. Nacharaju, et al.).
A Hexapeptide Motif (306VQIVYK311)-forming &b.beta; Structure Indues the Aggregation of Tau Protein to Paired Helical Filaments (M. von Bergen, et al.).
PART V: ANIMAL AND CELLULAR MODELS.
Formation of Neurofibrillary Tangles in Mouse Brain (A. Takashima & K. Tanemura).
Inducible Transgenic Expression of Wild-type tau in H4 Neuroglioma Cells (M. DeTure, et al.).
Lewy-like Pathology in Mice Transgenic for Mutant (A53T) and Wild-type Human α-Synuclein (B. Sommer, et al.).
Somal and Neuritic Accumulation of the Parkinson's Disease-associated Mutant [A30P]a-Synuclein in Transgenic Mice (P. Kahle, et al.).
Ex vivo Transmission of Mouse-adapted Prion Strains to N2a and GT1-7 Cell Lines (S. Lehmann, et al.).
In Vivo Perturbation of Lysosomal Function Promotes Neurodegeneration in the PS1M146v/APPk670N,M671L Mouse Model of Alzheimer's Disease Pathology (R. Nixon, et al.).
Changes in Cognitive Characteristics of Tg(APP) CRND8 Mice at Early Stages of Immunization with Beta-Amyloid Peptide (C. Janus, et al.).
PART VI: THERAPEUTICS AND THERAPEUTIC STRATEGIES.
Galantamine, a Novel Treatment for Alzheimer's Disease: A Review of Long-term Benefits to Patients and Caregivers (P. Tariot & B. Winblad).
Benefits of Donepezil on Cognition, Function and Neuropsychiatric Symptoms in Patients with Mild and Moderate Alzheimer's Disease over One Year (G. Waldemar, et al.).
Characterization of Alzheimer's β-Secretase Protein BACE: Processing and Other Post-translational Modifications (M. Haniu, et al.).
Androgen Treatment Reduces Cognitive Deficits in Female apoE4 Transgenic Mice (J. Raber, et al.).
Studies with the Memory-enhancing Drug AIT-082 in PC12 Cells (D. Lahiri, et al.).
Generation of Auto-antibodies toward Alzheimer's Disease Vaccination (B. Solomon & D. Frenkel).
Toward the Identification of y-Secretase: Using Transition State Analog Inhibitors (W. Esler, et al.).
Photoactivated, Active-site-directed γ-Secretase Inhibitors Covalently Label Presenilin 1 (S. Gardell, et al.).
Functional Analysis of β-Secretase Using Mutagenesis and Structural Homology Modeling (G. Tatsuno, et al.).
Therapeutic Approaches to Prion Diseases: In Vitro Studies with Tetracycline Compounds (T. Awan, et al.).
PART VII: PSYCHOSOCIAL CARE.
Influence of a Memory Training Program on Attention and Memory Performance of Patients with Dementia (T. Bernhardt, et al.).
Prediction of Use of Emergency Community Services by Cognitively Impaired Seniors who Live Alone: Preliminary Findings of a Prospective Study (M. Tierney, et al.).
Index.
See More
"Articles are divided into seven sections on epidemiology and risk factors.... About 400 contributors lend expertise to this professional compendium and contact information is provided for at least one author of every article." (SciTech Book News, Vol. 25, No. 4, December 2001)
See More