Miscarriage: Women Sharing from the Heart
ISBN: 978-0-471-54834-8
272 pages
January 1993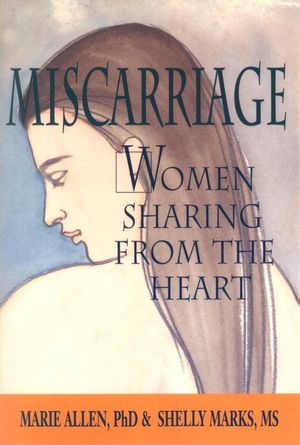 Compassion and support from 100 women "Women who miscarry must not and need not be left in emotional isolation. I am pleased that this timely and sensitive reflection on miscarriage is now available to grieving women and to those who are involved in their lives." --from the Foreword by Richard F. Jones III, MD, FACOG President, The American College of Obstetricians and Gynecologists Based on the authors' own experiences as well as the shared experiences of women from across the country, Miscarriage: Women Sharing From the Heart is more than a helpful resource. This candid and poignant book helps you understand and work through your deepest feelings and concerns and, most importantly, reassures you that you aren't alone. The authors offer:
* Support, empathy, and a clear path towards healing
* The personal stories of 100 women talking about their miscarriage experiences
* Interviews with fathers on how they have been affected
* Helpful advice for partners, family members, and health care professionals
See More
MISCARRIAGE.

A Beginning.

The Mother Who Has Miscarried.

Shelly's Story.

MATERNAL LOVE AND ATTACHMENT.

Our Pregnancies, Our Babies.

Julianna's Story.

ECHOES OF MOURNING.

A Death.

Grieving.

Jessi's Story.

The Hardest Part.

Insights and Reflections.

Leah's Story.

RELATIONSHIPS.

Our Partners.

Our Partners' Grief.

Our Living Children.

Our Family and Friends.

Professionals.

FACETS OF GRIEF.

Understanding Grief.

Respecting and Honoring Our Grief.

Emotional and Physical Dimensions.

Eve's Story.

Understanding Our Emotions.

BELIEFS THAT GET IN THE WAY.

Childhood Lessons.

Societal Myths.

Hannah's Story.

THE JOURNEY.

Passage Through Grief.

Elizabeth's Story.

UNFOLDING.

A Common Grief.

Marie's Story.

Opening to Life.

Gifts.

Appendices.

Glossary of Medical Terms.

Index.
See More
MARIE ALLEN, PhD, and SHELLY MARKS, MS, both of San Diego, California, are active volunteers in a support group for parents who have lost babies. They speak frequently on miscarriage and bereavement.
See More