Handbook of Design, Manufacturing and Automation
ISBN: 978-0-471-55218-5
1064 pages
September 1994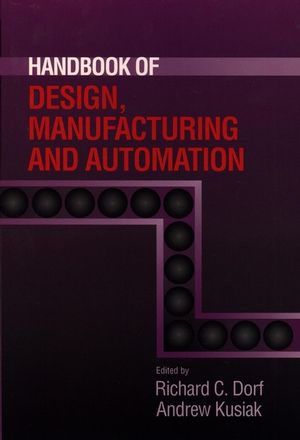 Comprehensive, detailed, and organized for speedy reference--everything you need to know about modern manufacturing technology. From concurrent engineering to fixture design for machining systems, from robotics and artificial intelligence to facility layout planning and automated CAD-based inspection, this handbook provides all the information you need to design, plan, and implement a modern, efficient manufacturing system tailored to your company's special needs and requirements. Handbook of Design, Manufacturing and Automation does more than simply present the characteristics and specifications of each technology--much more. Each technology is discussed both in terms of its own capabilities and in terms of its compatibility with other technologies, and the trade-offs involved in choosing one option over another are explored at length. An entire section is devoted to the business aspects of converting to the new technologies, including acquisition of automation, managing advanced manufacturing technology, and issues of cost and financing. The focus is on incorporating these technologies into a cohesive whole--an efficient, cost-effective manufacturing system. Other important topics include:
* Design for automated manufacturing
* Nontraditional manufacturing processes
* Machine tool programming techniques and trends
* Precision engineering and micromanufacturing
* Computer-integrated product planning and control
* Image processing for manufacturing
* And much more
See More
Partial table of contents:

AUTOMATION.

Automation (M. Groover).

ENGINEERING DESIGN.

Design for Manufacturing (Y. Hazony).

MANUFACTURING PROCESSES AND TOOLS.

Nontraditional Manufacturing Processes (K. Rajurkar).

PRECISION ENGINEERING AND MICROMANUFACTURING.

Micromanufacturing (J. Jora-Almonte, et al.).

DESIGN OF MANUFACTURING SYSTEMS.

Analysis and Design of Manufacturing Systems (K. Hitomi).

PLANNING, SCHEDULING, AND CONTROL OF MANUFACTURING SYSTEMS.

Manufacturing Process Planning (H.-c.

Zhang).

QUALITY ENGINEERING.

Automated CAD-Based Vision Inspections (J. Ventura & J.-M.

Chen).

INFORMATION PROCESSING.

Computer Networks in Manufacturing (S. Yeralan).

BUSINESS ASPECTS OF DESIGN AND MANUFACTURING.

Managing Advanced Manufacturing Technology (D. Gerwin).

TOOLS AND TECHNIQUES FOR DESIGN AND MANUFACTURING.

Artificial Intelligence Techniques for Manufacturing Equipment Diagnostics (A. Bajpai).

STANDARDS.

Standards and Prenorms in Design, Manufacturing, and Automation (F. Vernadat).

Index.
See More
About the editors RICHARD C. DORF is Professor of Electrical and Computer Engineering and Professor of Management at the University of California, Davis. He is also the author of Modern Control Systems, Seventh Edition; Electrical Circuits, Second Edition; The Encyclopedia of Robotics and Automation; and the Handbook of Electrical Engineering. He is a Fellow of the Institute of Electrical and Electronics Engineers and a member of the Robotics Institute of America and the American Society of Electrical Engineers. Dr. Dorf received his PhD in electrical engineering from the U.S. Naval Postgraduate School in 1961. ANDREW KUSIAK is Professor and Chairman of the Department of Industrial Engineering at the University of Iowa in Iowa City. He received his BS and MS in precision and mechanical engineering respectively, from the Warsaw Technical University and his PhD in operations research from the Polish Academy of Sciences. He edited Intelligent Design and Manufacturing, Concurrent Engineering: Automation, Tools, and Techniques, and a number of other books and technical papers. Dr. Kusiak is a member of the American Association of Artificial Intelligence, Society of Manufacturing Engineers, Institute of Industrial Engineers, Institute of Electrical and Electronics Engineers, International Federation of Information Processing, and the International Federation of Automation Control.
See More