Planning and Analysis of Construction Operations
ISBN: 978-0-471-55510-0
400 pages
March 1992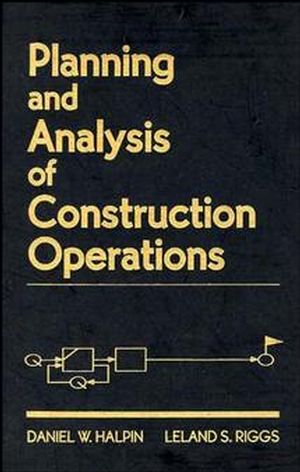 Focuses on the use of simulation techniques to model and evaluate repetitive construction operations. Based on the CYCLONE and MICROCYCLONE software developed by the authors and used at 38 universities nationwide, it uses a variety of examples from all areas of construction to demonstrate the application of simulation to analyze construction operations.
See More
Construction Processes.

Line-of-Balance Models.

Queueing Systems.

Method Productivity Delay Method.

Process Modeling Concepts.

Building Process Models.

System Definition.

Extended Modeling Concepts.

Modeling Work Task Durations.

Simulation.

Typical Repetitive Processes.

Building Construction Models.

Heavy Construction Models.

Sensitivity Analysis.

Noncyclic Networks.

Appendices.

Problems.

Bibliography.

Index.
See More