e-Finance: The Electronic Revolution
ISBN: 978-0-471-56026-5
220 pages
June 2001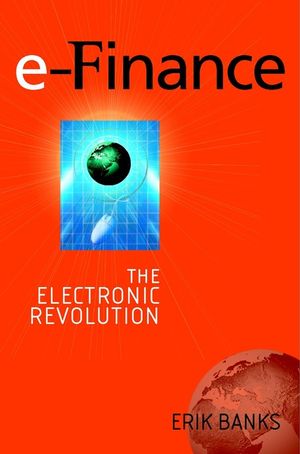 Digital finance is the latest hot topic as financial institutions grapple with the impact of e-commerce. Electronic trading, managing e-commerce risk, B2B exchanges, e-brokers, Alternative Trading Systems (ATS) are all bringing opportunities and challenges to the financial sector. eFinance examines all these areas and provides a readable, non-technical overview of this dynamic sector.
The book takes a look at the development of e-commerce business models, as well as the technology and the funding of digital finance. eFinance then moves on to explore the financial services that are available to both institutional and individual customers outlining the advantages and disadvantages of traditional and virtual banking and exploring potential areas of growth and future developments focusing on competition and market structures.
* Contains numerous industry examples that illustrate the expansion, failures, successes and future of digital finance, including Schwab, Fidelity, Citibank, London Stock Exchange/Deutsche Boerse, Egg/Prudential, Reuters, Yahoo Finance, Virgin
See More
Acknowledgements.

The Arrival of e-Commerce.

The Evolution of Digital Finance.

Financing Digital Finance.

B2B e-Finance.

B2C e-Finance.

The Information of Business.

The Digital Future.

Appendix: The Digital Revolution.

Bibliography.

Index.
See More
Erik Banks is a Managing Director in Merrill Lynch's Corporate Risk Management group in New York, responsible for credit/market risk technology, data, analytics and policy; prior to assuming his current role he managed the firm's market risk and crdit risk teams in London, Tokyo and Hong Kong. Before joining Merrill Lynch in 1988 he worked at Citibank in New York. In addition to e-Finance, he is author of six other books on credit, risk, derivatives, emerging markets and merchant banking. He lives in Greenwich, Connecticut with his wife Milena - and their six dogs and two cats.
See More