Manager's Guide to the Sarbanes-Oxley Act: Improving Internal Controls to Prevent Fraud
ISBN: 978-0-471-56975-6
256 pages
February 2004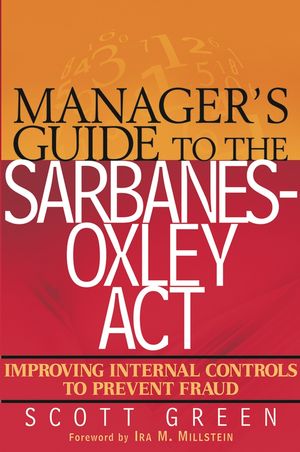 Need help ensuring your campany complys with Sarbanes-Oxley? Armed with this hands-on guide, you can detect early signs of fraud and operational loss, and safeguard your job, your employees' jobs, and the long-term success of your company. Don't let fraud derail your career. Protect yourself with the fail-safe Control Smart method found in
Manager's Guide to the Sarbanes-Oxley Act.
Order your copy today!
See More
Foreword.
Preface.
Acknowledgments.
Chapter 1: Sarbanes-Oxley Myth.
Legislating Evil Out of Our Corporations.
Employees, Fraud, and Lessons Forgotten.
Why You Should Not Rely on Auditors.
You Can't Trust the Lawyers Either.
Supporting the Fraud Culture.
What Really Works.
Chapter 2: Control Smart Approach.
Smart Basics.
Case Study: Andy Fastow's Shell Game.
Chapter 3: Threats and Dangers.
How to Recognize a Pending Nightmare.
I See It. Should I Worry?
Whose Job Is It Anyway?
Chapter 4: Know Yourself.
Do You Have Decision Rights?
Key Activities Model.
Tell Your Story.
Chapter 5: Identify Where You Are Vulnerable.
What Are Controls?
Pull Levers—Often.
Activities That Improve Your Business.
Chapter 6: Smart Links.
Step 1: Establish Behavioral Boundaries.
Step 2: Choose Your Customers.
Step 3: Did You Get What You Paid For?
Case Study: Greed's Siren Song: Dennis Kozlowski.
Step 4:Who's Reading Your E-mail?
Step 5:What's It Really Worth?
Step 6: Growth Busters!
Step 7: Has Your Ship Sailed?
Step 8: Keep Everyone Happy.
Step 9: Cash Is the Same as Money.
Step 10:Where Did It Go? How Do You Know?
Step 11:Take Your Temperature Often.
Step 12: Speaking Out Loud to a Crowd.
Case Study:The Cynthia Cooper Story.
Step 13: Knowing the Best and Brightest.
Chapter 7: Protect Yourself.
Find Those Gaps:The Dentex Case.
Applying Smart Links.
Interrupting an Embezzlement.
Finishing the Job.
Applying Smart Links to Financial Reporting Processes.
Chapter 8: Monitor Your Health.
What Is Driving Your Business?
We Know We Are Better!
Are We There Yet?
What Happens Now?
Chapter 9: A Call to Action.
Epilogue.
Appendix A: Statement of Values.
Appendix B: Key Performance Indicator Reporting.
Appendix C: Examples of Key Performance Indicators.
Appendix D: Control Activities.
Appendix E: Example of Section 302 Certification.
Appendix F: Attestation Checklist.
Notes.
Bibliography.
Subject Index.
Company Index.
See More
SCOTT GREEN, CPA, is the Global Head of Audit and Compliance for Weil, Gotshal & Manges, one of the largest law firms in the world and a leader in the practice of corporate governance. A graduate of the University of Idaho and the Harvard Business School, he is a recognized expert on management controls with more than fifteen years of experience in the field. He has also taught finance and banking at Hofstra University.
See More