Valley of the Spirits: A Journey Into the Lost Realm of the Aymara
ISBN: 978-0-471-57507-8
296 pages
March 1996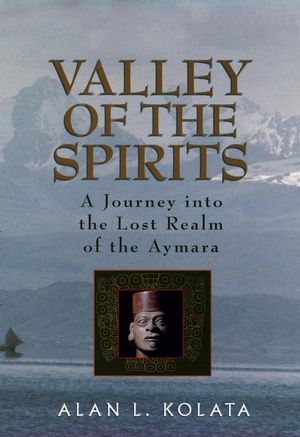 In a secluded valley high in the Andes Mountains, long before the time of the Incas and the Aztecs, the empire of the Aymara rose from the shores of Lake Titicaca and flourished for nearly a thousand years. The secrets of the Aymara civilization, one of the first great empires of the Americas, have only recently been deciphered from the haunting ruins of their splendid temples, among which their contemporary descendants still live and work today.

In Valley of the Spirits, Alan Kolata takes us deep into the mystical world of the Aymara, where past and present come together and the spirits of ancient ancestors still speak to shamans in the voices of mountain springs. Kolata's unique knowledge of the Aymara is based on 17 years of research at the site of the ancient empire.

Its crown jewel was the dazzling ancient capital of Tiahuanaco, whose gold and silver-appointed temples and "monumental stone sculptures intensified the mythic aura of the city, imbuing it with a quality of the supernatural." From A.D. 400-1100, it was the spiritual center of the Andean world. According to Aymara myth, the creator god Viracocha brought man to life from the springs and rocks of Tiahuanaco's sacred landscape.

The city's rich symbolism linked man inextricably to the majestic plan--and the cyclical fates--of nature. Royal priests performed elaborate animal and human sacrifices and buried human trophy heads and the mummified remains of Aymara kings in lavish religious pageants. So impressive was the legacy of Tiahuanaco that the Inca rulers claimed descent from the Aymara kings more than 500 years after the empire's mysterious catastrophic demise.

Kolata deciphers the mysteries of the ancient monuments, from the massive Akapana pyramid, the symbol of sacred mountains, and of fertility and abundance, to the imposing archway known as the Gateway of the Sun, among the most exquisite artistic monuments of the ancient Americas. And he takes us into the contemporary world of the Aymara as well, where shamans recite the names of ancestral spirits in a hypnotic protocol of remembrance and homage to Lady Earth and Lord Sky.

"To anyone fascinated by the total experience of humans, to anyone who wishes to go beyond the familiar world, to anyone wanting to push the envelope of their own perceptions, a sojourn into the mind and history of the Aymara is disturbing, exhilarating, and ultimately unforgettable."--Alan Kolata, in his Introduction to Valley of the Spirits
See More
Into the Aymara World.

The Trembler on the Mountain.

Andean Genesis.

The Sacred City.

The World Turned Around.

Restoration.

The Past Is Prologue.

Notes.

Glossary.

Index.
See More
ALAN L. KOLATA, Ph.D., is the Director of the Center for Latin American Studies at the University of Chicago, and a professor of anthropology. His work at the site of the ancient capital city of Tiahuanaco has been featured in numerous publications, including U.S. News & World Report, TheWashington Post, the Chicago Tribune, Smithsonian, and National Geographic.
See More