Arsenic in the Environment, Part 1: Cycling and Characterization
ISBN: 978-0-471-57929-8
448 pages
April 1994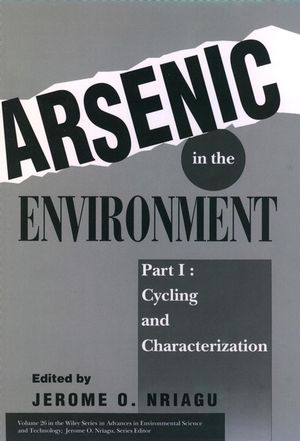 A comprehensive and up-to-date investigation of one of the deadliest toxins and its impact on ecological and human health. Part one contains a thorough treatment of the chemical nature of arsenic, its environmental behavior and its measurement through contemporary analytical methods. Part two deals with the latest findings from a wide range of international research groups into the repercussions of arsenic exposures on human health and the ecosystem.
See More
Partial table of contents:

Arsenic: Historical Perspectives (J. Azcue & J. Nriagu).

Arsenic Distribution in Soils (H. Yan-Chu).

Arsenic Mobilization and Bioavailability in Soils (D. Bhumbla & R. Keefer).

Mobilization of Arsenic in Contaminated River Waters (W. Mok & C. Wai).

Removal of Arsenic in Drinking Water Treatment (M. Jekel).

Biotransformation of Arsenic in the Freshwater Environment (S. Maeda).

The Chemical Forms of Arsenic in Aquatic Organisms and Their Interrelationships (D. Phillips).

Arsenic in Several Chinese Estuaries and Coastal Seas (L. Xiankun, et al.).

Arsenic in Vegetation of Wetlands (M. Otte & W. Ernst).

Arsenic Minerals Formed at Low Temperatures (F. Schaufelberger).

Index.
See More
JEROME O. NRIAGU is a professor in the Department of Environmental and Industrial Health, School of Public Health, the University of Michigan, and an adjunct professor at the University of Waterloo. For many years he was a research scientist with the National Water Research Institute, Burlington, Ontario. He is the editor of the Wiley Series in Advances in Environmental Science and Technology and has edited, among many other volumes, Nickel and Human Health, Food Contamination from Environmental Sources, Gaseous Pollutants, and Aquatic Toxicology. Dr. Nriagu received BSc and DSc degrees from the University of Ibadan, Nigeria, an MS from the University of Wisconsin, Madison, and a PhD in geochemistry from the University of Toronto. He has published extensively in leading geochemical and environmental science journals and has received a number of awards for his work. lie is a Fellow of the Royal Society of Canada.
See More