Interior Design Law and Business Practices
ISBN: 978-0-471-58342-4
240 pages
February 1994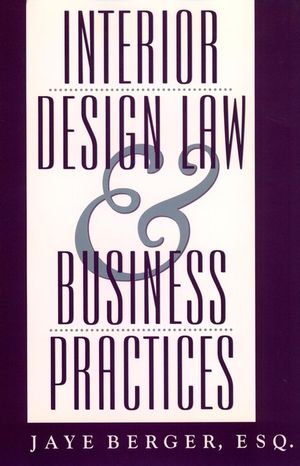 You don't have to learn your lessons the hard way anymore.

Most designers have to learn their lessons through time and experience when it comes to the business and legal aspects of starting and running an interior design firm. Now, Interior Design Law and Business Practices makes the hard lessons easy. It is the first book to offer comprehensive coverage of all crucial business and legal aspects of starting and running an interior design firm. Written by an attorney with an all-star team of experts including accountants, marketing specialists, and successful design professionals, it teaches you important lessons about:
* Setting up an interior design practice
* Maintaining records and correspondence
* Negotiating contracts with clients and contractors
* Obtaining professional liability insurance
* Marketing design services
* Accounting for design firms
* Handling and setting legal disputes
* Licensing products and furniture designs
* And much more
See More
Starting an Interior Design Business.

The Business of Interior Design (N. Lewis).

Running the Business.

Marketing Interior Design Services (R. Brandt).

Accounting for Interior Designers (J. Beck).

Professional Liability Insurance for Designers (J. Monteleone & B. Eisler).

Interior Design Contracts.

Contracts with Contractors.

Licensing of Products.

Purchasing Furniture and Selecting Products.

Legal Disputes.

New Areas of Concern for Interior Designers.

Appendix.

Index.
See More