Successful Job Search Strategies for the Disabled: Understanding the ADA
ISBN: 978-0-471-59234-1
229 pages
January 1994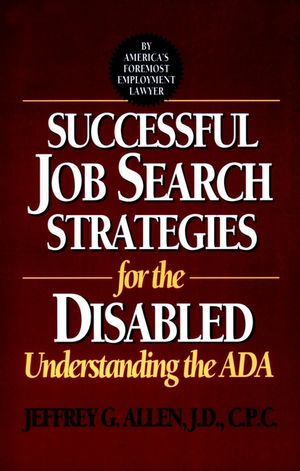 The passage of The Americans with Disabilities Act (ADA) opened new doors of employment opportunities for millions of Americans. Disabled Americans no longer have to settle for whatever jobs they can get, but can now compete fairly for the jobs they want and are qualified to do. In this important new book, job search guru Jeff Allen shows disabled job hunters the ropes, from both the legal and career path points of view. Whether you're entering the job market for the first time or you're ready for a change of careers, this book can empower you with all the confidence and job search skills you need to land the job you deserve.
* Explains, in detail, your legal rights under ADA
* Includes 50 mini legal cases and real-life scenarios
* Offers expert practical advice on how to land a job, including writing resumes and surviving interviews
* Coaches you on how to overcome negative perceptions and how to "sell" yourself to an employer
See More
Overview of the ADA.

From Hiring to Firing: Employment Practices Regulated Under Title I. Where the Jobs Are.

Self-Assessment: Matching Your Skills with Essential Job Functions.

Resumes and Cover Letters: Your Paper Profile.

Job Leads.

Positioning Your References for Maximum Impact.

The BIG Question: Should I Disclose?.

Interviewing Guidelines.

The Second Interview: Negotiating Strategies.

Interview Questions and Answers.

Reasonable Accommodations Under Title I. Accommodating Specific Disabilities.

Enforcement of ADA Employment Regulations.

Title III: How Can You Succeed if You Can't Get in?.

ADA Accessibility Guidelines.

Recap: Some Common Questions and Answers About the ADA.

Resources.

Index.
See More
JEFFREY G. ALLEN, J.D., C.P.C., is a certified placement counselor and employment specialist and is recognized as the nation's foremost employment attorney. Mr. Allen is the author of more bestselling books in the employment field than anyone else. His other books include Complying with the ADA: A Small Business Guide to Hiring and Employing the Disabled, How to Turn an Interview into a Job, The Complete Q&A Job Interview Book, and the popular three-book series, Jeff Allen's Best.
See More