Do's and Taboos Around The World, 3rd Edition
ISBN: 978-0-471-59528-1
208 pages
June 1993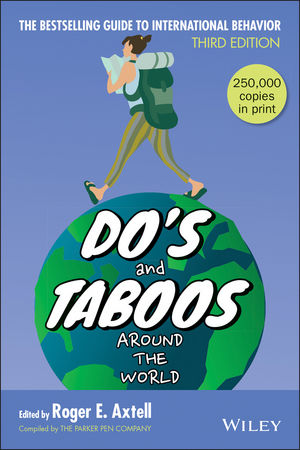 The ultimate guide to international behavior.now completely updated and expanded! Do's and Taboos Around the World 3rd Edition "Roger Axtell is an international Emily Post." --The New Yorker "Can help you make friends [and] avoid travel trouble." --BusinessWeek "Helpful.fun to read." --Steve Birnbaum The first two editions of Do's and Taboos Around the World helped thousands of high-powered executives and tourists avoid the missteps and misunderstandings that plague the world traveler. This updated and expanded Third Edition provides even more facts, tips, and cautionary tales--gleaned from the experiences of more than five hundred international business travelers--as well as:
* Information on protocol, customs, and etiquette; hand gestures and body language; tipping; American jargon; and the international communications crisis
* Up-to-date advice on dealing with the monumental changes in Russia, Germany, Eastern Europe, the People's Republic of China, and other locales
* A new chapter on business gift-giving and gift-receiving customs, with country-by-country gift suggestions and precautions
* A special quick reference guide to customs and mores in 96 countries, including revisions and updates from foreign embassies and consulates
See More
Protocol, Customs, and Etiquette.

Hand Gestures and Body Language.

A Quick Guide to the Ways of the World.

Gift Giving and Receiving.

American Jargon and Baffling Idioms.

Tips for Incoming Visitors to the U.S.

Postscript.

Appendix.

Index.
See More
ROGER E. AXTELL, retired Vice President of Worldwide Marketing for the Parker Pen Company, spent 30 years living and traveling abroad. He is now a professional after-dinner speaker and seminar leader whose audiences laugh while they learn about embarrassing anecdotes, goofs, gaffes, and behavior on five continents.
See More
Learn more about