Textbook
Physics With Health Science Applications
ISBN: 978-0-471-60389-4
512 pages
September 1985, ©1985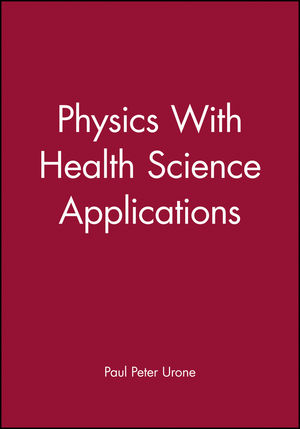 An accessible, algebra-based text covering the introductory physics necessary for applied health and nursing. Presentation integrates health science applications throughout. Excellent illustrations support the exposition. Chapters contain over 100 worked examples, over 450 review questions, and more than 550 end-of-chapter problems graded according to difficulty. Offers discussion of the latest applications such as ionizing radiation and radiation doses, nuclear imaging techniques, CT scanners, ultrasound techniques, artificial hearts, and laser surgery.
See More
Motion.

Force.

Work, Energy, and Power.

Temperature and Heat.

Fluids and Pressure.

Biological and Medical Applications of Pressures and Fluids.

Elasticity and Waves;
Sound.

Sound and Hearing.

Introduction to Electricity and Magnetism.

Simple Electric Circuits.

Electrical Safety.

Bioelectricity.

Geometrical Optics.

Vision.

Electromagnetic Radiation: Introduction to Modern Physics.

Atomic Physics.

Radioactivity and Nuclear Physics.

Appendices.

Answers to Odd-Numbered Problems.

Index.
See More