Textbook
Introduction to Thermodynamics, Classical and Statistical, 3rd Edition
ISBN: 978-0-471-61427-2
800 pages
January 1991, ©1991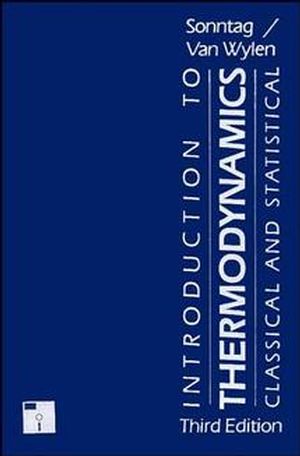 Presents a comprehensive and rigorous treatment of thermodynamics while retaining an engineering perspective and, in so doing, provides a resource with considerable flexibility for the inclusion of material on thermodynamics. Updated for this Third Edition, it reflects an increased emphasis on environmental issues and a recognition of the steadily growing use of computers in the study of thermodynamics and solution of thermodynamic problems. Contains numerous examples, as well as problems at the end of each chapter that are carefully sequenced to reflect the subject matter.
See More
Some Concepts and Definitions.

Properties of a Pure Substance.

Work and Heat.

The First Law of Thermodynamics.

First-Law Analysis for a Control Volume.

The Second Law of Thermodynamics.

Entropy.

Second-Law Analysis for a Control Volume.

Some Power and Refrigeration Cycles.

An Introduction to the Thermodynamics of Mixtures.

Thermodynamic Relations.

Chemical Reactions.

Introduction to Phase and Chemical Equilibrium.

Quantum Mechanics.

Molecular Distributions and Models.

Statistical Mechanics and Thermodynamics.

Applications of Statistical Thermodynamics.

Appendices.

Some Selected References.

Answers to Selected Problems.

Index.
See More