Textbook
Quantitative Research for the Behavioral Sciences
ISBN: 978-0-471-61683-2
400 pages
December 1991, ©1992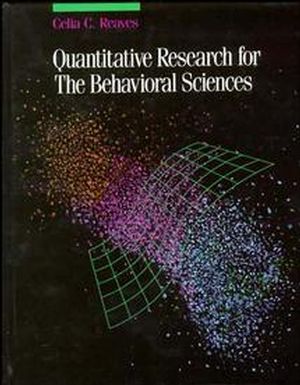 Using an informal approach, this is an introduction to a broad range of research methods; presumes no prior experience with statistics and emphasizes theoretical underpinnings and practical applications. Topics include the philosophy of science, the theory of measurement, a concise overview of statistical analysis, the effects of social science on individuals and society, how to go about writing a research report. Along with examples of actual research, each chapter ends with a summary, a CheckPoint and exercises that encourage students to think more deeply about issues just covered.
See More
FUNDAMENTALS.

The Nature and Kinds of Research.

The Nature of Science.

The Ethics of Research.

MAKING AND USING MEASUREMENTS.

The Theory of Measurement.

Issues in Measurement.

Measuring and Using Correlations.

EXPERIMENTAL METHODS.

Fundamental Ideas in Experimental Methods.

The Control of Extraneous Variables.

Quasi-Experimental Research.

DEALING WITH RESULTS.

Statistical Decisions.

The Research Report.

Science as a Human Activity.

Appendices.

References.

Glossary.

Index.
See More