Textbook
Concepts and Models of Inorganic Chemistry, 3rd Edition
ISBN: 978-0-471-62978-8
1024 pages
February 1994, ©1994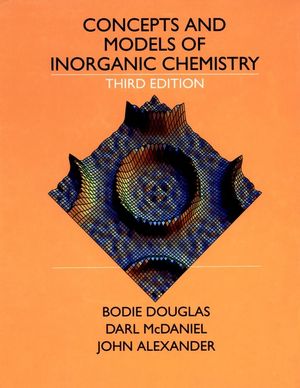 Inorganic chemistry is a branch of chemistry that studies inorganic compounds, their behavior in different reactions and their composition. Douglas introduces basic concepts of Inorganic in a readable manner.
See More
Partial table of contents:

SOME BASIC CONCEPTS.

Atomic Structure and the Periodic Table.

Molecular Models.

Symmetry.

BONDING AND STRUCTURE.

Discrete Molecules: Molecular Orbitals.

Inorganic Solids: Ionic Models.

CHEMICAL REACTIONS.

Acids and Bases.

Oxidation-Reduction Reactions.

COORDINATION CHEMISTRY.

Models and Stereochemistry.

Spectra and Bonding.

ORGANOMETALLIC CHEMISTRY.

General Principles.

Organometallic Reactions, Mechanisms, and Catalysis.

SELECTED TOPICS.

Chemistry of Some Nonmetals.

Cluster and Cage Compounds.

Bioinorganic Chemistry.

Appendices.

Index.
See More