Least-Cost Electric Utility Planning
ISBN: 978-0-471-63614-4
800 pages
June 1989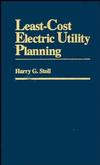 Presents all the key elements and tools necessary to plan and operate efficient electric utility power systems. Seven sections address economics, finance, and regulation; industrial power economics; load demand and management; reliability of the generation system; cost of production in the generation system; capacity planning; and transmission planning. Each section addresses power system theory and principles and applies them to realistic utility examples. Results from solved examples are expanded to illustrate the sensitivity and direction of key parameters.
See More
The Utility Perspective.
Introduction to Utility Financial Accounting.
Time Value of Money.
Economic Evaluation.
Financial and Regulatory Analysis.
Industrial Power Generation Economics.
Electricity Load-Demand Forecasting.
Load Forecasting II.
Power Plant Reliability Characteristics.
Generation System Reliability.
Generation System Reliability II.
Production Simulation.
Production Simulation II.
Generation Planning.
Capacity Resource Planning.
Bulk Power Transmission Planning.
Power System Stability.
Preparing for the Next Century.
Index.
See More