Accounts Payable: A Guide to Running an Efficient Department, 2nd Edition
ISBN: 978-0-471-63690-8
432 pages
August 2004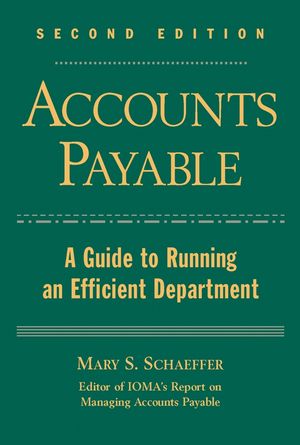 Get the most complete guide to running a valuable accounts payable department with 
Accounts Payable, Second Edition.
This updated edition continues where the successful first edition left off, providing all the critical information and guidance top professionals need to run an efficient department, complete with coverage of the innovative issues now facing the field and new material on:
Encryption and digital signatures
Electronic invoicing
Purchase cards
Post audit firms
Petty cash
Vendor fraud
Certification . . . and more!
Order your copy today!
.
See More
Preface.
Acknowledgments.
PART ONE: PROCESSING.
Chapter 1. Invoice Handling.
Chapter 2. Alternatives to the Three-Way Match.
Chapter 3. Check Preparation Printing and Filing.
Chapter 4. Automated Clearinghouse and Direct Deposit.
Chapter 5. Making International Payments.
PART TWO: CONTROLS.
Chapter 6. Exception and Rush Processing.
Chapter 7. Errors and Duplicate Payments.
Chapter 8. Paying When the Original Invoice Is Not Available
Chapter 9.   Master Vendor Files.
PART THREE: CASH MANAGEMENT.
Chapter 10. Terms and Taking Discounts.
Chapter 11. Cash Management.
Chapter 12. Petty Cash.
Chapter 13. Payment Timing.
Chapter 14. Audits and Outside Accountant's Management Letter.
PART FOUR: TRAVEL AND ENTERTAINMENT.
Chapter 15. Handling Travel and Entertainment Reports.
Chapter 16. Electronic Travel and Entertainment Handling.
Chapter 17.  Travel and Entertainment Automation.
Chapter 18. VAT Refunds.
PART FIVE: TECHNOLOGY.
Chapter 19.   Electronic Data Interchange.
Chapter 20. Imaging.
Chapter 21. Internet, E-Mail, and E-invoicing.
Chapter 22.   Encryption and Digital Signatures.
Chapter 23. E-marketplaces and XML.
PART SIX: SPECIALTY TOPIC.
Chapter 24. Purchasing Card.
Chapter 25. Post Audit Firms.
Chapter 26. Benchmarking.
PART SEVEN: REGULATORY ISSUES.
Chapter 27. Form 1099 and Form1042-S.
Chapter 28. Sales and Use Tax.
Chapter 29. Escheatment.
PART EIGHT: MANAGEMENT ISSUES.
Chapter 30. Ethics, SOA and OFAC.
Chapter 31. Disaster Recovery.
Chapter 32. Outsourcing.
Chapter 33. Management Techniques: Balanced Scorecards, Six Sigma.
PART NINE: DEPARTMENT MANAGEMENT.
Chapter 34. Making Your Accounts Payable Department First Rate.
Chapter 35. Managing The Staff.
Chapter 36. Staff Motivation and Morale.
Chapter 37. Working with/for Purchasing and Other Departments.
PART TEN: FRAUD.
Chapter 38. Check Fraud.
Chapter 39. Employee Fraud.
Chapter 40. Vendor Fraud.
PART ELEVEN: ACCOUNT PAYABLE TODAY AND IN THE FUTURE.
Chapter 41. Professionalism in the Field.
Chapter 42. Salary and Titles in Accounts Payable Today.
Appendix: Accounts Payable Resources.
Index.
See More
Mary S. Schaeffer is the Editorial Director and Publisher of Accounts Payable Now & Tomorrow, a newsletter devoted to payment issues. She also pens, e-News from the AP Front, a complimentary e-zine for the payment community. She's the author of ten books and numerous magazine, newsletter and newspaper articles. Her books have been used in several certification programs. She is a member of the New York Financial Writers Association. She is currently working on two additional books for John Wiley & Sons.
See More