Alternative Dispute Resolution for Organizations: How to Design a System for Effective Conflict Resolution
ISBN: 978-0-471-64323-4
256 pages
January 2000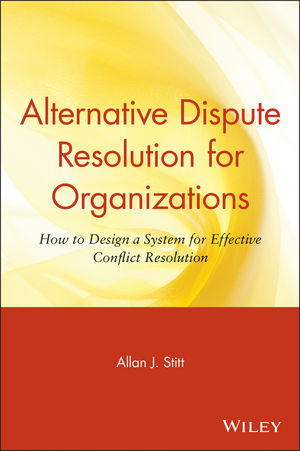 Alternative Dispute Resolution (ADR) is a rapidly growing field, due to its popularity as an alternative to long and expensive lawsuits. ADR involves resolving disputes of any kind outside of the judicial system, through negotiation, mediation, arbitration, and other processes. This book is for people who work within organizations and are involved in disputes themselves, or for people who are required to deal with or resolve disputes. It covers how to set up a dispute resolution process in an organization.
See More
Preface.
Acknowledgements.
Chapter 1. Introduction to ADR.
Chapter 2. Diagnosis.
Chapter 3. Diagnosis of the Organization.
Chapter 4. Diagnosis of the Disputes.
Chapter 5. Dispute Resolution Requirements.
Chapter 6. Interests.
Chapter 7. Interest-Based Negotiation.
Chapter 8. Interest-Based Mediation.
Chapter 9. Rights.
Chapter 10. Exits and Re-entries.
Chapter 11. creativity.
Chapter 12. Training and Evaluation.
Chapter 13. ADR In External Disputes.
Chapter 14. Concluding Thoughts.
Appendix A. Sample Multi-Step ADR Clause.
Appendix B. Procedure Manual for Mediation of Credit Disputes Between Bank of Montreal and Small-and Medium-Sized Enterprises (SME's).
Appendix C. Ontario Human Rights Commission Mediation Procedures Manual.
Bibliography.
Index.
See More
Allan J. Stitt
practices mediation, facilitation, and ADR systems design at Stitt Feld Handy Houston in Toronto. He and his colleagues teach several workshops on ADR and negotiation, including a series of certificate courses in conjunction with the University of Windsor Law School.
Mr. Stitt is an Adjunct Professor at the University of Toronto Law School, where he teaches courses on Conflict Management and Negotiation. He is President of the Arbitration and Mediation Institute of Ontario, past Chair of the ADR section of the Canadian Bar Association (Ontario), and is on the Board of Directors of the Canadian Foundation for Dispute Resolution. He has designed ADR systems for a number of organizations including the Canadian Bankers Association, the College of Physicians and Surgeons of Ontario, the Law Society of Upper Canada, the Bank of Montreal, and the Ontario Human Rights Commission.
Mr. Stitt is a graduate of the University of Toronto, the University of Windsor Law School, the University of Detroit Law School, and Harvard Law School.
See More