E-book
Leading the Way: Three Truths from the Top Companies for Leaders
ISBN: 978-0-471-64685-3
220 pages
May 2004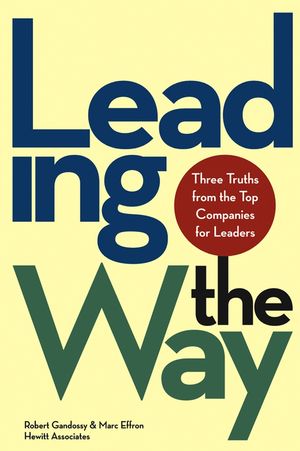 In Leading the Way, Hewitt Associates' business leaders Robert Gandossy and Marc Effron present their findings from the largest research project ever conducted on leadership, the "Top Companies for Leaders." Using data from more than 600 companies around the globe and interviews with senior executives at the top companies, they present a compelling business case for investing in growing leaders. Their stories, examples, and tactics provide tangible, practical tools for leaders everywhere.
See More
Foreword.
Acknowledgments.
About the Authors.
Chapter 1: The Looming Leadership Crisis.
Chapter 2: Leadership Truth #1: CEOs and Boards of Directors at Top Companies Provide Leadership and Inspiration.
Chapter 3: Leadership Truth #2:Top Companies Have a Maniacal Focus on the Best Talent.
Chapter 4: Leadership Truth #3:Top Companies Put in Place the Right Programs, Done Right.
Chapter 5: Pay Attention to Subtlety: The Little Things Are the Big Things.
Chapter 6: Starting from Scratch to Build a Strong Leadership Pipeline.
Chapter 7: Future Directions:New Rules for the 21st Century.
Epilogue.
Appendix A: Top 20 Companies for Leaders List, 2002 and 2003.
Appendix B: Building a Company of Great Leaders: A Starter Kit.
Index.
See More
ROBERT GANDOSSY
is the Global Leader for Hewitt Associates' Talent and Organization Consulting. Prior to joining Hewitt, he was a senior management consultant at a general management consulting firm.
MARC EFFRON is the Global Leader for Hewitt Associates' Leadership Consulting Group, helping global companies build leadership quality and depth. He brings practical insight to his work through senior leadership roles at large Fortune 500 organizations.
See More