The Career Navigation Handbook
ISBN: 978-0-471-64850-5
210 pages
April 2004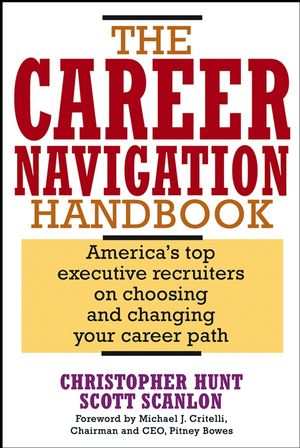 In this insightful book, twenty-three leading executive recruiters offer their invaluable insight and professional advice on choosing and changing career paths. With leading headhunters like Gerard Roche of Heidrick & Struggles and Peter Crist of Crist Associates, you'll get the kind of inside look at the executive search process that you can't find anywhere else. From spotting the opportunities that exist to making yourself more attractive to employers,
The Career Navigation Handbook
covers every vital topic in the job-search process, including:
Emerging trends in the executive world
Evaluating the career landscape in the new economy
Positioning yourself as the competition increases…and much more!
Buy your copy today!
See More
Foreword Michael J. Critelli, Chairman and CEO, Pitney Bowes Inc.
Introduction: Christopher Hunt and Scott Scanlon.
PART I: GETTING STARTED.
1. Evaluating the New Career Landscape in the New Economy (Helga M. Long, Managing Director, H.M. Long Global Healthcare).
2. Ahead of the Pack: How Best to Position Yourself as the Job-Seeking Competition Swells (John Fischer, President, Fischer Group International).
3. What You Can Expect from a Top-Notch Recruiter: Quality Metrics for Clients and Candidates (Richard S. Slayton, President, Slayton International).
4. Challenging Opportunities in the Global Landscape (Richard Gros, President, Richard Gros & Associates).
PART II: THE 10 BEST INDUSTRIES AND FUNCTIONS OF OPPORTUNITY.
5. Careers in Retail (John Plummer, President, Plummer & Associates).
6. Careers in Agribusiness (Kelly Kincannon, President, Kincannon & Reed).
7. Careers in Real Estate (Steven Littman, President, Rhodes Associates).
8. Legal Careers (B. Tucker Olson, Principal, Early Cochran & Olson, LLC).
9. The Art and Science of Hospitality (Keith Kefgen, President, HVS Executive Search).
10. Human Resources: A Perspective (David Arnold, President, Oak Hill Partners).
11. Careers in Managed Care (Michael S. Reeder, President, Reeder Associates).
12. Careers in Technology (Stephen Mader, CEO, Christian & Timbers).
13. Careers in Entertainment and Media Susan Bishop, President, Bishop Partners).
14. Careers in Investment Management (Hank Higdon and David Barrett, Partners, Higdon Barrett Inc.).
PART III: MAKING YOUR MARK IN THE FINAL PUSH.
15. How Character Counts (Gerard R. Roche, Senior Chairman, Heidrick & Struggles).
16. Networking to Top Executives (William Bonnell, President, Bonnell Associates).
17. The Female Executive: New Power at the Top (Barbara L. Provus, Principal, Shepherd, Bueschel & Provus).
18. Three Pillars of Trust: Leadership, Governance, and Transparency (Roderick C. Gow, Chairman, Gow & Partners).
19. CEO Makeover: Rise of the New Breed (Peter D. Crist, Chairman, Crist Associates).
20. Measuring the Value of Your Own Human Capital (Donald Heneghan, Partner, Allerton, Heneghan & O'Neill).
21. Right Candidate, Right Fit (William H. Willis Jr., President and Managing Director, William Willis Worldwide).
22. The Moral Imperative: A New Leadership Paradigm (Steve Fisher, President, and Paul R. Ray Jr., Vice Chairman, A.T. Kearney Executive Search).
23. Changing Lanes: Shifting to a New Industry or Function to Advance Your Career (Joseph Ziccardi, Chief Executive Officer, Cromwell Partners).
Index.
See More
CHRISTOPHER HUNT
is President and cofounder of Hunt-Scanlon, the leading trade and reference publisher for the executive search, human resource, and human capital industries.
SCOTT SCANLON is Chairman, CEO, and cofounder of Hunt-Scanlon.
See More