E-book
101 Marketing Strategies for Accounting, Law, Consulting, and Professional Services Firms
ISBN: 978-0-471-65475-9
304 pages
May 2004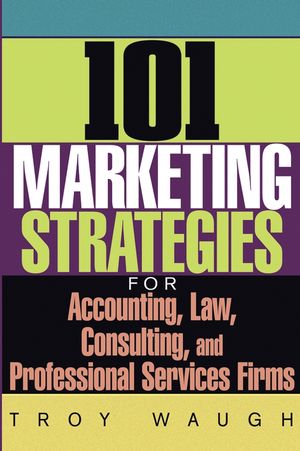 "Troy Waugh—'the rainmakers' rainmaker'—has provided a well-designed blueprint for selling professional services that skillfully draws upon his more than thirty years in the field. This practical, highly focused guide to the selling process can help our firms achieve sales successes measured not only by effort but also by bottom-line results."—Howard B. Allenberg, vice chairman and CIO, BDO Seidman, LLP
Finally, peerless focus on how to break into all aspects of the selling process and the currents of relationship and buyer development. Learn how to build your personal and firm business more successfully. Covers the process of relationship and buyer development. Provides proven strategies from hundreds of the world's successful firms.
Order your copy today!
See More
Preface.
Chapter One: Introduction.
1. Why Market?
2. Are You a Top Rainmaker?
3. Visionaries Plan for Success.
4. Motivating Employees for Marketing.
5. Eight Ways to Build Your Firm Over the Next 12 Months.
Chapter Two: Prospecting.
6. Consultant's Advice Spells Disaster.
7. Turning Prospects into Clients.
8. The "R" Word . . . .
9. The Seven Deadly Sins of Prospecting.
10. Trade Shows Can Create Good Leads.
11. Broad-based Marketing Supports Prospecting.
12. Tip Clubs.
Chapter Three: Qualifying.
13. Big Hat, No Cattle.
14. NEAD-PAY.
15. Too Busy to Grow?
16. Use the "David Letterman" Dismissal for Unqualified Clients and Prospects.
Chapter Four: Gaining Access to Decision Makers.
17. Reaching Decision Makers.
18. Tips to Help You Gain Access to Decision Makers.
19. Your Message is the Lure, Your Promise is the Hook.
20. Speaking Helps Open Doors.
Chapter Five: Identifying Decision Influencers.
21. There Are No Single Decision Makers.
22. Identifying the Major Decision Influencers.
23. Understanding Influencers' Perceptions and Values.
24. Understanding Influencers' Personalities.
25. Planning Each Call Improves Success.
Chapter Six: Discovering Problems.
26. Uncovering Prospect Problems.
27. Good Questions Uncover Problems.
28. Listening: A Key to Uncovering Problems.
29. Researching Your Prospects on the Internet.
30. Your Business Physical Defines Problems.
Chapter Seven: Developing Needs.
31. Professionals Recommend, They Don't Sell.
32. Take Your Problem Questions Deeper.
33. Benchmarking to Discover Needs.
34. Differentiate Your Service.
Chapter Eight: The "R" Word....
35. Creating Wants.
36. Listening Is Key to Creating Wants.
37. Keys to Better Listening for Wants.
38. Active Listening.
39. Stimulate Wants with Perceived Value.
40. Doing the "Needs to Wants" Two-Step.
Chapter Nine: Building Like and Trust.
41. Creating a Brand Stimulates Trust.
42. Like Me, Like My Team.
43. Table Manners Sell or Repel.
44. When Your Prospect Visits.
45. Active Professionals Give Back.
Chapter Ten: Demonstrating Capabilities.
46. Demonstrating Your Capabilities Correctly.
47. Tell a Story, Draw a Picture.
48. Demonstrate Your Value.
49. Demonstrate Capabilities with Passion.
50. Bundling Your Services.
51. Improving Your Presentation Versatility.
Chapter Eleven: Handling Objections.
52. What Is Your Attitude Toward Objections?
53. Why Prospects Object.
54. Two Types of Objections.
55. Techniques for Answering Objections.
56. Handling the Price Objection.
Chapter Twelve: Persuading Decision Influencers.
57. Win Big with the "Strip Away".
58. Control the Sale with Better Questions.
59. Position Power Sells.
60. Closing the Sale.
61. Try the "Puppy Dog Close".
62. Winning Proposals.
Chapter Thirteen: Minimizing Risk.
63. Support Your Proposal with Solid Evidence.
64. Minimize Prospect Risk with a Service Guarantee.
65. Testimonials Minimize Perceived Risk.
66. Lost Proposal Evaluations.
Chapter Fourteen: Great Service Builds Loyalty.
67. Build Client Loyalty with Five-Star Service.
68. Your Most Important Clients.
69. Partners: Leaders in Service to Internal Clients.
70. Consistent Service Builds Brand Loyalty.
71. Client Satisfaction Surveys Are Passé.
72. When Your Client Hires a New Chief.
73. Do You Have Second-Class Clients?
Chapter Fifteen: Building Profits.
74. A Client Business Review.
75. Market Pricing Based on Value.
76. Cycle Selling with Clients and Prospects.
Chapter Sixteen: Offering Dessert.
77. Offering Dessert, Going for Gold.
78. Premium Services.
79. Use the Summary Close with Clients.
Chapter Seventeen: Soliciting Referrals.
80. Client Referrals.
81. The ABCs of RSD—Referral Source Development.
82. Build Referrals Naturally.
83. Developing Referral Relationships.
84. Making the Most of Your Prioritized Prospects.
85. Panels Get Staff Involved in Referral Development.
Chapter Eighteen: Becoming an Insider.
86. Becoming an Insider.
87. Focus on Client Profits.
88. Retreat and Advance 1.
89. Retreat and Advance 2.
90. Leverage Up the Value Ladder.
91. Selling to the Top.
Chapter Nineteen: Strategic Directions.
92. The One-Firm Concept = Brand.
93. Lead with Vision.
94. Strategic Alliances—The Whole Is Greater than the Sum of the Parts.
95. Succeed by Failing More.
Chapter Twenty: Final Thoughts.
96. Training for Results.
97. Use Continuing Education for Marketing.
98. Coaching for Success.
99. The Value of Training to Train.
100. Selling Is an Investment.
101. Strategic Advances for Your Owner Group.
Appendices.
A. Sample Marketing Plan Items.
B. Checklist—Seminars, Workshops, and Training Programs.
C. Receptionist Training.
D. Lost Proposal Evaluation.
E. Checklist—Client Business Review.
F. The Annual Referral Request Letter.
G. Staying in Contact with Specific Types of Referral Sources.
H. Example of a Pre-Retreat Questionnaire for Participants.
Reference Guide.
Index.
See More
Troy Waugh, CPA, is author of the highly acclaimed book, Power Up Your Profits, and numerous articles published in Accounting Today, The Practical Accountant, and many newsletters. One of the most sought-after speakers on sales and marketing professional services in the country, he is a leading marketing and sales consultant to the accounting industry. Waugh's experienced team of consultants has helped firms add more than $500 million in new business through its consulting, training, and alliance services. Waugh is the founder of The Rainmaker Academy, the leading sales and marketing training course in the United States and Western Europe. Its graduates have attracted more than $300 million to their firms as a result of this program.
See More