Multiple Streams of Income: How to Generate a Lifetime of Unlimited Wealth, 2nd Edition
ISBN: 978-0-471-65578-7
336 pages
April 2004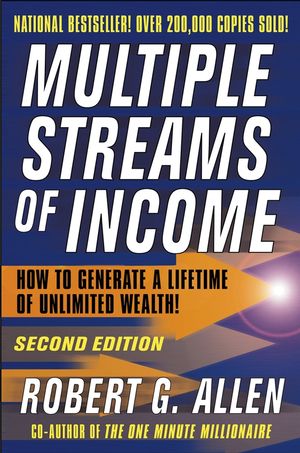 In Multiple Streams of Income, bestselling author Robert Allen presents ten revolutionary new methods for generating over $100,000 a year—on a part-time basis, working from your home, using little or none of your own money. For this book, Allen researched hundreds of income-producing opportunities and narrowed them down to ten surefire moneymakers anyone can profit from. This revised edition includes a new chapter on a cutting-edge investing technique.
See More
Preface.
Acknowledgments.
Introduction.
Chapter 1. Easy Money: Financial Freedom on a Dollar Day.
Chapter 2. The 10-Minute Millionaire.
Chapter 3. The Money Tree Formula: How to Create Lifelong Streams of Cash Flow.
Chapter 4. The Mountain Range of Financial Freedom: The Three Great Money Mountains.
Chapter 5. Your First Stream: Success in the Stock Market: Investing for Total Idiots.
Chapter 6. Your Second Stream: Accelerated Stock Strategies: Six Ways to Magnify Your Returns.
Chapter 7. Your Third Stream: Double Your Money in the Market: How to Multiply Your Investment Dollars.
Chapter 8. Your Fourth Stream: Winning Big in Real Estate.
Chapter 9. Your Fifth Stream: A Fortune in Foreclosures and Flippers.
Chapter 10. Real Estate Supercharger: 12 Powerful Ways to Earn 20% or More on Your Money.
Chapter 11. Your Sixth Stream: OPT: Huge Payoffs by Paying Other People's Taxes.
Chapter 12. Your Seventh Stream: Network Marketing: The Ultimate Money Machine.
Chapter 13. Your Eighth Stream: Infopreneuring: How to Turn a Tiny Classified Ad into a Fortune.
Chapter 14. Your Ninth Stream: Licensing: Intellectual Property at Warp Speed.
Chapter 15. Your Tenth Stream: The Internet: Your Next Fortune Is Only a Click Away.
Chapter 16. Tax Cut: Plugging Your Biggest Leak.
Chapter 17. Financial Fortress Strategies: Shielding Your Multiple Streams of Income.
Chapter 18. Balancing Act: Getting Your Act Together.
Chapter 19. Share It: Leaving a Legacy That Outlives You.
Index. 
See More
ROBERT G. ALLEN is the author of the #1 megahits Nothing Down, Creating Wealth, and The One Minute Millionaire, as well as the national bestseller Multiple Streams of Internet Income. A popular guest on radio and television shows including Larry King Live and Good Morning America, he has been featured in the Wall Street Journal, Barron's, Parade, People, and Reader's Digest.
See More