Textbook
Antenna Theory: Analysis and Design, 3rd Edition
ISBN: 978-0-471-66782-7
1136 pages
April 2005, ©2005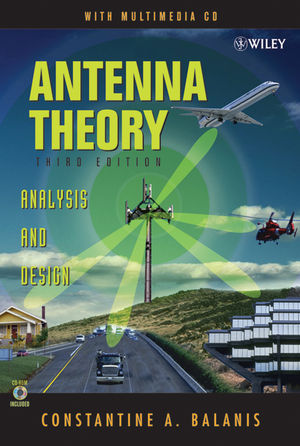 The discipline of antenna theory has experienced vast technological changes. In response, Constantine Balanis has updated his classic text,
Antenna Theory
, offering the most recent look at all the necessary topics. New material includes smart antennas and fractal antennas, along with the latest applications in wireless communications. Multimedia material on an accompanying CD presents PowerPoint viewgraphs of lecture notes, interactive review questions, Java animations and applets, and MATLAB features. Like the previous editions,
Antenna Theory, Third Edition
meets the needs of electrical engineering and physics students at the senior undergraduate and beginning graduate levels, and those of practicing engineers as well. It is a benchmark text for mastering the latest theory in the subject, and for better understanding the technological applications.
An Instructor's Manual presenting detailed solutions to all the problems in the book is available from the Wiley editorial department.
See More
Preface.
1. Antennas.
2. Fundamental Parameters of Antennas.
3. Radiation Integrals and Auxiliary Potential Functions.
4. Linear Wire Antennas.
5. Loop Antennas.
6. Arrays: Linear, Planar, and Circular.
7. Antenna Synthesis and Continuous Sources.
8. Integral Equations, Moment Method, and Self and Mutual Impedances.
9. Broadband Dipoles and Matching Techniques.
10. Traveling Wave and Broadband Antennas.
11. Frequency Independent Antennas, Antenna Miniaturization and Fractal Antennas. 
12. Aperture Antennas.
13. Horn Antennas.
14. Microstrip Antennas.
15. Reflector Antennas.
16. Smart Antennas.
17. Antenna Measurements.
Appendices.
Index.
See More
CONSTANTINE A. BALANIS received his BSEE degree from Virginia Tech in1964, his MEE degree from the University of Virginia in 1966, his PhD in electrical engineering from The Ohio State University in 1969, and an honorary doctorate from the Aristotle University of Thessaloniki in 2004. From 1964 to 1970, he was with the NASA Langley Research Center in Hampton, Virginia, and from 1970 to 1983, he was with the Department of Electrical Engineering of West Virginia University. In 1983, he joined Arizona State University and is now Regents' Professor of Electrical Engineering. Dr. Balanis is a Life Fellow of the IEEE and the author of Advanced Engineering Electromagnetics, also published by Wiley.
See More