E-book
Organic Coatings: Science and Technology, 2nd Edition
ISBN: 978-0-471-67475-7
646 pages
March 1999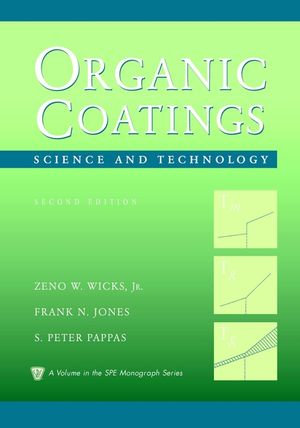 The Second Edition of this highly successful reference presents a thoroughly updated, systematic survey of organic coatings technology and its numerous applications. Written by three industry experts, this self-contained volume painstakingly revises and condenses the material from the previous, two-part edition-making it more useful for scientists and engineers first entering the field, as well as for students in coatings courses.

Incorporating recent developments, Organic Coatings: Science and Technology, Second Edition helps scientists, engineers, and paint for-mulators to better understand the principles underlying the technology and use them effectively in the development, production, and application of various types of coatings.

It correlates the technology to the current state of knowledge in the field, addressing the complexities inherent in the formulation process which are often overlooked in the professional literature.

The authors introduce readers to the subject with seven chapters on key properties of coatings, then proceed to cover raw materials (binders, solvents, pigments), physical concepts, formulations, and applications. Each topic is carefully summarized and accompanied by extensive references to sources of detailed information-particularly useful in self-study.

In addition to clearly defining industry terms, the book includes hundreds of figures as well as troubleshooting advice for organic, surface, polymer, and coatings scientists, engineers, and paint formulators in all branches of the coatings industry. The material is also applicable to the related areas of printing inks, adhesives, and parts of the plastics industry.

From the reviews of the First Edition . . .

"Excellently written in a clear and vivid style . . . a valuable source of information." -Progress in Organic Coatings.

"[This book] does an excellent job of connecting the theory of polymer chemistry to the practical facts of organic coatings . . . an extremely useful reference." -Choice.

Substantially reorganized in this accessible, self-contained volume, Organic Coatings: Science and Technology, Second Edition provides a systematic, up-to-date survey of the principles underlying the production and use of organic coatings and paints. Complete with 250 figures, this immensely useful text/reference includes:
* New developments in the field since the publication of the First Edition
* Concise descriptions of raw materials, physical concepts, formulation, applications, and properties
* Troubleshooting guidance for coatings scientists and technologists
* Precise definitions of coatings industry terminology for newcomers to the field
* Extensive references reflecting current literature
* An appendix listing useful sources.
See More
What are Coatings?

Polymerization and Film Formation.

Flow.

Mechanical Properties.

Exterior Durability.

Adhesion.

Corrosion Protection by Coatings.

Latexes.

Amino Resins.

Binders Based on Isocyanates: Polyurethanes.

Epoxy and Phenolic Resins.

Acrylic Resins.

Polyester Resins.

Drying Oils.

Alkyd Resins.

Other Resins and Cross-Linkers.

Solvents.

Color and Appearance.

Pigments.

Pigment Dispersion.

Pigment Volume Relationships.

Application Methods.

Film Defects.

Solvent-Borne and High Solids Coatings.

Water-Borne Coatings.

Electrodeposition Coatings.

Powder Coatings.

Radiation Cure Coatings.

Product Coatings for Metal Substrates.

Product Coatings for Nonmetallic Substrates.

Architectural Coatings.

Special Purpose Coatings.

Perspectives on Coatings Design.

Appendix.

Index.
See More
ZENO W. WICKS, Jr., has 55 years' experience in coatings, including 28 years with Inmont Corporation and 11 years as Professor and Chairman of the Department of Polymers and Coatings at North Dakota State University. Dr. Wicks is the recipient of the Mattiello Lectureship, the Tess Award, and four Roon Awards.

FRANK N. JONES is Professor and Director of the National Science Foundation Industry/University Cooperative Research Center in Coatings at Eastern Michigan University. Formerly Professor and Chair of the Department of Polymers and Coatings at North Dakota State University, Dr. Jones is actively involved in coatings research. He is the recipient of the Mattiello Lectureship and three Roon Awards.

S. PETER PAPPAS is Corporate Scientist at Kodak Polychrome Graphics. Formerly Scientific Fellow at Loctite Corporation as well as Professor in the Department of Polymers and Coatings at North Dakota State University, Dr. Pappas is the recipient of four Roon Awards for outstanding publications in coatings science.
See More