E-book
How Not to Go Broke at 102!: Achieving Everlasting Wealth
ISBN: 978-0-471-67516-7
320 pages
May 2004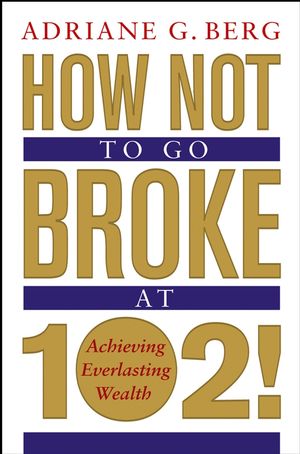 The continued threat to Social Security income makes longevity planning critical for a lifetime of financial security. How Not to Go Broke at 102! examines the challenges of financial longevity and provides readers with guidelines for making the right financial choices that will provide the security to support a long and active life. This book looks at the reality behind long-term care for boomers and their aging parents, discusses methods to maximize life-long income, create intergenerational planning, manage housing and healthcare costs, choose meaningful work, and access newly instituted government programs to live without compromise in the exciting decades ahead.
See More
Foreword.
Acknowledgments.
INTRODUCTION. Gearing Up for a Fabulous Future.
Chapter ONE. The Five Challenges of Longevity and How You Will Meet Them.
Part One. Challenge Longevity and Work.
Chapter TWO. The Aging Worker Paradox.
Chapter THREE. Recent Innovative and Progressive Workplace Solutions.
Chapter FOUR. Making Rehirement a Reality.
Chapter FIVE. Dream Fulfillment and Compromise—They Are Both Okay.
Chapter SIX. Securing Your Retirement with an End Run Job.
Part TWO. Challenge Longevity and Your Home.
Chapter SEVEN. Aging in Place.
Chapter EIGHT. Downscaling by Moving.
Chapter NINE. Where Will You Live When the World Is Your Oyster?
Chapter TEN. Affordable Lifestyle Dreams for Sale.
Chapter ELEVEN. The Real Estate IRA How to Buy Real Estate Now, and Avoid the Baby Boom Rush.
Chapter TWELVE. The Link between Housing, Healthcare, and Lifelong Independence.
Part THREE. Challenge Longevity and Family.
Chapter THIRTEEN. Legal Documents That Keep Your Money Always in Your Control.
Chapter FOURTEEN. Under One Roof—Selling the House and Building the Ancillary Apartment.
Chapter FIFTEEN. The New Family Financial Dialogue, or The Myth of the Trillion-Dollar Inheritance.
Part FOUR. Challenge Longevity For Healthcare Costs.
Chapter SIXTEEN. Wealth Is Health—Life for Sale.
Chapter SEVENTEEN. How Will You Pay for Your Healthcare?
Chapter EIGHTEEN. Medicare and Medicaid.
Chapter NINETEEN. Nursing Home Costs.
Chapter TWENTY. Long-Term Care Policies—Choice Not Chance.
Part FIVE. Challenge Longevity and Money.
Chapter TWENTY-ONE. Living the Handcrafted Life.
Chapter TWENTY-TWO. The Ultimate Strategy for Everlasting Wealth.
Chapter TWENTY-THREE. Social Security and Your Pension Will They Carry You Through Longevity?
Chapter TWENTY-FOUR. How to Create Your Own Decumulation Plan.
Chapter TWENTY-FIVE. Ageless Millionaire—Starting at the End.
Epilogue.
Appendix A. Find Your Ideal Place to Live.
Appendix B. Understanding Conservatorship Proceedings.
Appendix C. Living Wills, Healthcare Proxies, and Powers of Attorney.
Appendix D. Insurance Company Rating Services.
Appendix E. Additional Resources.
Appendix F. Test Your Social Security Knowledge.
Notes.
Index.
See More
Adriane G. Berg is one of the most credentialed and recognized experts on personal finance and successful aging in the nation. She is founder of www.LongevityClubOnLine.com, www.BoomerHouse.com, and the ezine Ageless Millionaire, and is an original founder of the National Academy of Elder Law Attorneys. She is also CEO of Generation Bold, a consulting and marketing company for those wishing to reach the boomer and active senior markets. Berg is a well-known radio and television personality, having won an Emmy for writing and hosting IRS Tax Beat on FNN, and has made multiple appearances on The Oprah Winfrey Show and Good Morning America.
See More