Peptidomics: Methods and Applications
ISBN: 978-0-471-67781-9
Hardcover
409 pages
December 2007
US $134.00

Add to Cart
This price is valid for United States. Change location to view local pricing and availability.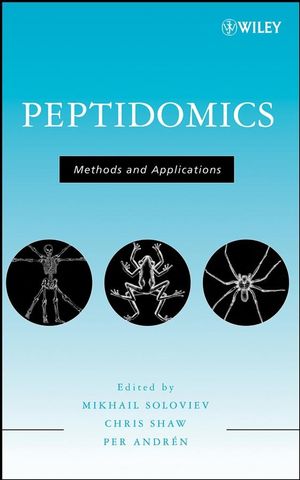 Other Available Formats:
E-book
SECTION 1: STUDIES OF NATURALLY OCCURRING PEPTIDES.
Chapter 1: Analysis of the peptidomes of amphibian skin granular gland secretions - an integrated functional genomic strategy (Chris Shaw, and Tianbao Chen).
Chapter 2: A short history of insect (neuro)peptidomics - A personal story of the birth and youth of an excellent model for studying peptidome biology (Peter D.E.M. Verhaert, Martijn W.H. Pinkse, Maria C. Prieto-Conaway, and Markus Kellmann).
Chapter 3: Peptidomics of short linear cytolytic peptides from spider venom (Sergey A. Kozlov, Alexander A. Vassilevski, and Eugene V. Grishin).
Chapter 4: Molecular cloning approaches to peptidomics: the identification of novel cDNAs encoding neurotoxin-like peptide pools (Zhensheng Pan, Richard Barry, and Mikhail Soloviev).
Chapter 5: Wheat antimicrobial peptides (Tatyana I. Odintsova, and Tsezi A. Egorov).
Chapter 6: Immunopeptidomics: Applications to dissect immune responses through proteomic-based approaches (Ernesto Oviedo-Orta, and Alexandra Bermudez-Fajardo).
Chapter 7: Strategies for reliable and improved identification of peptides (Karl Skuld, Maria Folth, Marcus Svensson, Anna Nilsson, Per Svenningsson, and Per E. Andrun).
SECTION 2: PEPTIDOMICS METHODS AND NEW DEVELOPMENTS.
Chapter 8: Peptidomics approach to proteomics (Petra Zarbig, and Harald Mischak).
Chapter 9: The importance of sample handling in neuropeptidomics (Karl Skuld, Marcus Svensson, Anna Nilsson, Maria Folth, Per Svenningsson, and Per E. Andrun).
Chapter 10: Affinity peptidomics and protein microarrays: application to forensics and biometrics (Julian Bailes, and Mikhail Soloviev).
Chapter 11: Selective depletion and enrichment methods for the analysis of protein and peptide pools (Paul Finch, and Mikhail Soloviev).
Chapter 12: Detection of target peptides in foods and feeds by mass spectrometry (Mireia Fernandez Ocaca).
Chapter 13: Quantification of Polypeptides by Mass Spectrometry (Pedro R. Cutillas).
SECTION 3: PEPTIDOMICS APPROACH TO BIOMARKER DISCOVERY.
Chapter 14: Biomarker discovery (Petra Zarbig, and Harald Mischak).
Chapter 15: Can peptidomics provide a useful approach for the identification of biomarkers of toxicological exposure or effect (Helen Griffiths)?
Chapter 16: Peptidomics in Neuroendocrine research: a Caenorhabditis elegans and Mus musculus study (Kurt Boonen, Steven J. Husson, Geert Baggerman, Anja Cerstiaens, Walter Luyten, and Liliane Schoofs).
CONCLUSION.
Chapter 17: Peptidomics and Biology: two scientific disciplines driving each other (Chris Shaw, and Peter D.E.M. Verhaert).