Entries and Exits: Visits to Sixteen Trading Rooms
ISBN: 978-0-471-67805-2
352 pages
April 2006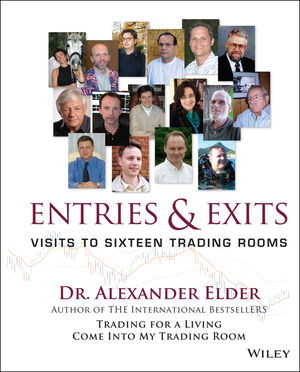 Come behind closed doors and see real trades made by real traders.
Dr. Alexander Elder leads you into 16 trading rooms where you meet traders who open up their diaries and show you their trades. Some of them manage money, others trade for themselves; some trade for a living, others are on the semi-professional level. All are totally serious and honest in sharing their trades with those who would like to learn. You will meet American and international traders who trade stocks, futures, and options using a variety of methods. All are normally very private, but now, thanks to their relationships with Dr. Elder, you can see exactly how these traders decide to enter and exit trades. Each chapter illustrates an entry and an exit for two trades, with comments by Dr. Elder. With this book as your guide, you can get closer to mastering the key themes of trading—psychology, tactics, risk control, record keeping, and the decision-making process.
The companion Study Guide is filled with striking insights and practical advice allowing you to test your knowledge and reinforce the principles outlined in Entries & Exits.
See More
Introduction 3
Chapter 1 Sherri Haskell A Logical Way of Looking at Things 12
Chapter 2 Fred Schutzman My Computer Can Do the Trading for Me 30
Chapter 3 Andrea Perolo Simple Charts, Clear and Uncluttered 48
Chapter 4 Sohail Rabbani The Discipline of Loss Control 66
Chapter 5 Ray Testa Jr. Developing a Consistent Approach 84
Chapter 6 James (Mike) McMahon A Successful Engineer Has a Disadvantage 100
Chapter 7 Gerald Appel Looking for Favorable Probabilities 118
Chapter 8 Michael Brenke To Keep Repeating What I Did Right 136
Chapter 9 Kerry Lovvorn A Squeeze Play 158
Chapter 10 Dr. Diane Buffalin Dancing Like Fred Astaire, Only Going Backwards and in High Heels 176
Chapter 11 David Weis Price-Volume Behavior Is Steeped in Reality 192
Chapter 12 William Doane The Bigger the Foundation, the Taller the Building 208
Chapter 13 Peter Tatarnikov We Analyze People Who Analyze Markets 224
Chapter 14 Damir Makhmudov Technical Signals in the Fundamental Context 240
Chapter 15 Pascal Willain Effective Volume 258
Chapter 16 Martin Knapp Do It Right the Next Time Around 276
Conclusion
Your Trading Room 307
Bibliography 319
Reading Lists 321
Acknowledgments 329
About the Author 331
Index 333
See More
DR. ALEXANDER ELDER is a professional trader, a teacher of traders, and a practicing psychiatrist. He is the founder of elder.com, an educational firm for traders worldwide. Dr. Elder is the author of two international bestsellers, Trading for a Living and Come Into My Trading Room (and their companion study guides), both published by Wiley. He is an avid traveler, as chronicled in his book Straying from the Flock: Travels in New Zealand (Wiley).
See More
More in this series
Learn more about