Using Investor Relations to Maximize Equity Valuation
ISBN: 978-0-471-67852-6
272 pages
November 2004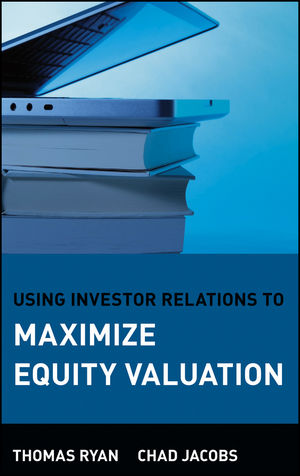 A practical guide to proactive investor relations (IR)
Investor relations (IR) has traditionally been an administrative function within corporate communications, responsible for disseminating public information and answering investor and media questions. Using Investor Relations to Maximize Equity Valuation challenges this approach, by arguing that IR has been underutilized and then illustrating how it should be elevated to lead a strategic communications effort to preserve or enhance corporate value and lower a company's cost of capital. Divided into four comprehensive parts, this book clearly describes capital markets strategies and tactical operations that these former, senior-level equity analysts and portfolio managers employ.
Chad A. Jacobs (Westport, CT) and Thomas M. Ryan (Westport, CT) are the cofounders and co-CEOs of Integrated Corporate Relations.
See More
Preface: A Brave New World of Investor Relations.
Introduction: A New Approach and Why It's Important.
PART I: CAPITAL MARKETS AND ITS PLAYERS.
Chapter One. The Capital Markets and IR.
Chapter Two. The Sell-Side Disclosed: Who They Are and What They Do.
Chapter Three. The Buy-Side: Institutional and Retail Investors.
Chapter Four. Employees, Suppliers, Customers.
Chapter Five. The Media.
Chapter Six. Global IR.
PART II: POST BUBBLE COMMUNICATIONS; Events In The Markets and The New World of IR.
Chapter Seven. Greed Is Good—90's Style.
Chapter Eight. Of Rules and Regulations.
Chapter Nine. Post Bubble Reality.
Chapter Ten Of Reason, Renewal and Honesty.
PART III: INVESTOR RELATIONS: THE FUNDAMENTALS; Traditional IR And The Need For Change.
Chapter Eleven. Traditional IR: What It Is, and Why It's Not Enough.
Chapter Twelve. Staffing and Sourcing The New IR.
Chapter Thirteen. Grasping The IR Evolution.
PART IV: INVESTOR RELATIONS: MAXIMIZING EQUITY VALUE.
Chapter Fourteen. Positioning IR to Succeed.
PART V: DEFINITION.
Chapter Fifteen. The IR Audit.
Chapter Sixteen. Excavating Value Post Audit.
PART VI: DELIVERY.
Chapter Seventeen. From Definition To Delivery.
Chapter Eighteen. To Guide or Not to Guide, That Is the Question.
Chapter Nineteen. Targeting the Audience.
Chapter Twenty. Integrating with PR.
Chapter Twenty-One. Infrastructure/Disclosure Check.
Chapter Twenty-Two. Delivering The Goods.
PART VII: DIALOGUE.
Chapter Twenty-Three. From Delivery to Dialogue.
Chapter Twenty-Four. Maintaining and Building Relationships.
Chapter Twenty-Five. Meeting The Street.
Chapter Twenty-Six. Event Management.
Chapter  Twenty-Seven. The Banker Mentality.
Conclusion: A Call for Change.
Appendix A: Two Press Releases.
Appendix B: The Conference Call Script.
Appendix C: Velocity Inc. 2004 Investor Relations Plan.
Index.
See More
THOMAS M. RYAN is the cofounder and co-CEO of Integrated Corporate Relations. Tom was a managing director in the equity research department of BT Alex. Brown. He has participated as lead or co-manager on at least $5 billion worth of investment banking transactions, including bank financing, high-yield debt, equity, and M&A transactions. Tom has often been quoted in the New York Times, the Wall Street Journal, Investor's Business Daily, International Herald Tribune, and the Wall Street Transcript. He has been a featured expert on CNNfn, CNBC, Money Talk (PBS), WNYC TV, and Bloomberg Television.
CHAD A. JACOBS is the cofounder and co-CEO of Integrated Corporate Relations. Before cofounding ICR, Chad was a vice president and managing director in the equity research departments of BT Alex. Brown and, before that, Ladenburg Thalmann. Chad has been the focus of stories in USA Today, POV, the Wall Street Journal, Investor's Business Daily, Women's Wear Daily, Daily News Record, Footwear News, Transworld Snowboarding, and Action Sports Retailer. He also served as a roundtable member on CNNfn and as a featured guest on ESPN2.
See More