Quick Cash in Foreclosures
ISBN: 978-0-471-67955-4
288 pages
October 2004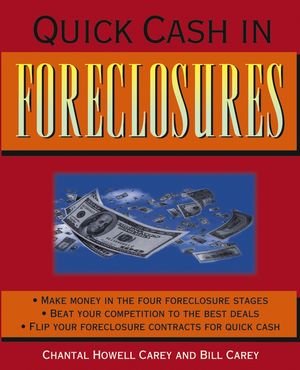 Foreclosure properties are one of today's hottest investments—and one of the quickest, easiest ways to turn a profit in real estate. Quick Cash in Foreclosures shows you how to profit from foreclosures—without  having to qualify for a loan, battle the hordes at foreclosure auctions, pay exorbitant repair and resale costs, and, most importantly,  without risking your savings! All you have to do is apply the authors' proven system, a step-by-step approach to finding great foreclosure properties, purchasing the seller's equity for pennies on the dollar, and then selling the contract to another investor for quick cash. With this straightforward,  practical  guide,  you too can profit quickly  and handsomely from  a foreclosed property.
See More
Preface.
Introduction.
1. Quick Cash in Foreclosures.
2. What is a Foreclosure?
3. Why Buy Foreclosures?
4. How to Buy Foreclosures.
5. When to Buy Foreclosures.
6. How to Find Foreclosures.
7. Negotiating with the Owner.
8. Buying the Equity.
9. Negotiating with the Lender Pre-Foreclosure.
10. FHA & VA Foreclosures.
11. Fannie Mae, Freddie Mac & FDIC Foreclosures.
12. IRS Foreclosures.
13. Buying on the Courthouse Steps.
14. Flipping Foreclosures.
15. Assigning Foreclosures.
16. Optioning Foreclosures.
17. Buying from the Lender.
18. Paperwork, Escrow, and Title Insurance.
Appendix A: Deeds Chart.
Appendix B: Loans Chart.
Appendix C: Contracts.
Glossary.
Index.
See More
CHANTAL HOWELL CAREY, a member of ZONTA International, has handled millions in real estate sales and management as a broker, consultant, and trustee.
BILL CAREY began selling real estate in 1977, and is a former director of the San Diego Association of Realtors and the California Association of Realtors. Chantal and Bill are also seminar speakers and international real estate and trust consultants. Bill is a tax consultant as well. Together, they are also the authors of several other books, including The New Path to Real Estate Wealth and the bestselling How to Sell Your Home Without a Broker, both from Wiley.
See More