The New Reverse Mortgage Formula: How to Convert Home Equity into Tax-Free Income
ISBN: 978-0-471-67956-1
266 pages
March 2005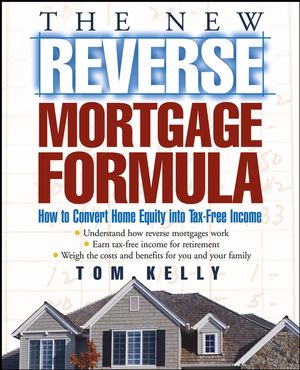 The New Reverse Mortgage Formula explains reverse mortgages in easy language so seniors and their family members can fully understand and benefit from these useful loan products. Reverse loans allow seniors to convert part of their home equity into tax-free income, letting seniors easily borrow against the value of their home without selling it. Safer than ever, today's reverse mortgages are non-recourse loans and lenders do not share in any appreciation or accrued equity. Safe and simple, reverse mortgages are a valuable option for senior homeowners having trouble living on a fixed income or in need of extra cash for any unforeseen expense.
See More
About the Author.
Acknowledgments.
Preface.
Introduction.
Chapter 1. Who Are Those Guys?
The Scope of the Reverse Mortgage Market.
Chapter 2. How Much Can I Borrow....and What Will it Cost?
Reverse Mortgage Amounts Tied to Age, Location, Home Value.
Chapter 3. What's on the Menu?
Picking the Right Reverse Mortgage Program.
Chapter 4. The Many Uses of Reverse Mortgage Funds.
Solving the Needs and Wants of Real People in Real Situations.
Chapter 5. Paving the Main Reverse Road.
HUD Has Provided Terrific Testing Grounds.
Chapter 6. Taking an Alternative Route.
Homeowners Who Can't....or Simply Don't Want To.
Chapter 7. Aging in Place and Funding Health Care.
The Prime Target for Reverse Mortgage Money.
Chapter 8. Reverse Mortgage Cash for Modification.
The Changes That Will Allow All Ages to Stay at Home.
Chapter 9. Early Black Eyes: Scanning the History of the Reverse.
Like ARMs, Industry Took its Lumps.
Epilogue: Going Forward in Reverse.
Recommended Readings.
Appendix A: Sample Amortization Schedules and Constant Maturity Indexes.
Appendix B: Reverse Mortgage Lenders, Helpful Forms, and Resources.
Index.
See More
TOM KELLY is a former real estate editor for the Seattle Times. He currently writes a nationally syndicated column and hosts a nationally syndicated radio program. He is recognized by the National Reverse Mortgage Lenders Association as a leader in explaining and detailing reverse mortgage products to consumers. With The New Reverse Mortgage Formula, he provides an innovative, commonsense guide for unlocking critical cash for seniors, creating a financial strategy for baby boomers, or building a pool of funds to pay for future healthcare.
See More