Effective Environmental, Health, and Safety Management Using the Team Approach
ISBN: 978-0-471-68231-8
232 pages
August 2005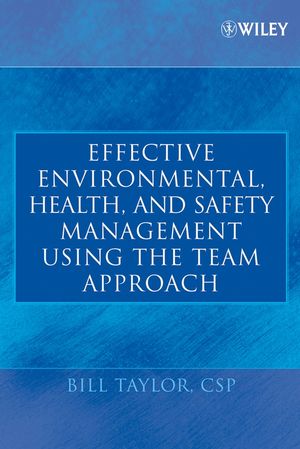 An important and highly actionable blueprint for optimum workplace safety

Health and safety management is an ongoing concern in today's workplace. Effective Environmental, Health, and Safety Management Using the Team Approach provides today's safety professionals with an excellent resource for protecting their organizations' most important resource-their employees. The author, a seasoned health and safety professional, provides a blueprint for installing a system that's been proven to reduce illness and injury on any job, in any industry, with a simple, logical approach that compares safety management to production and quality control-issues today's managers readily understand.

The system uses a team approach to get every level of an organization involved in the process of managing safety issues, with the ultimate goal being the development of a safety culture in which every employee has a personal interest in protecting their lives, their property, and their environment.

An ideal resource for industry managers as well as graduate-level courses in workplace safety and health, this text offers such special features as:
* Important checklists, including OSHA-required training, OSHA-required inspections, and OSHA-required postings and labeling
* Numerous health and safety resources, Web site addresses, and contact information for related organizations
* Real-world examples that illustrate important health and safety issues
* Helpful charts and forms to facilitate implementation of the team approach
* Frequently asked questions and answers for users of the system
See More
Foreword.
Preface.
1. The Hierarchy of Safety, Health and Environmental Management.
2. Understanding OSHA and Safety and Health Regulations.
3. The Basics of Managing Safety, Health and Environmental Programs.
4. The Facility Safety and Health Committee System.
5. The Safety Activities Task Group.
6. The Rules and Procedures Task Group.
7. The Education and Training Task Group.
8. The Inspections and Audits Task Group.
9. The Health and Environment Task Group.
10. The Fire and  Emergency Task Group.
11. The Housekeeping Task Group.
12. The Incident Investigations Task Group.
13. The Security Task Group.
14. Safety and Health Responsibilities.
Appendix A: Tools and Forms.
Appendix B: Frequently Asked Questions.
Appendix C: Environmental, Safety, Health, and Security Resources.
Index.
See More
BILL TAYLOR, CSP, is a safety professional whose diverse experience includes holding health and safety positions in both the public and private sectors and consulting in all types of industries. In addition to being an expert trainer and public speaker, Mr. Taylor has published and edited several textbook chapters and magazine articles on safety-related issues, including an award-winning article on managing ergonomic programs that appeared in Professional Safety in April of 1991.
See More