E-book
Technology Valuation Solutions
ISBN: 978-0-471-68458-9
240 pages
September 2004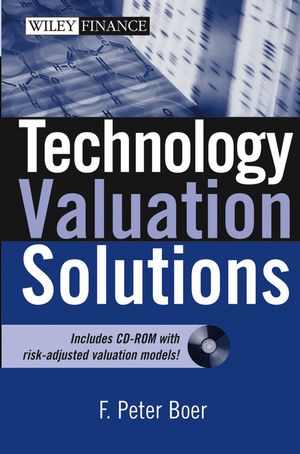 A better way to value the profitability and risk of R&D projects
New technology and R&D initiatives affect companies in both the service and manufacturing sector. It's estimated that half a trillion dollars is spent worldwide each year on such efforts. Technology Valuation Solutions + website offers a methodology along with illustrative cases for valuing the profitability and risk of R&D projects.
A companion to Boer's earlier work, The Valuation of Technology (978-0-471-31638-1), this book provides additional material that will help readers assess a wide variety of projects and business scenarios. In addition to the in-depth case studies, this book includes a website featuring valuation templates that readers can customize for their own individual needs.
See More
Preface vii
CHAPTER 1: "I'll Teach You the Value of Money" 1
CHAPTER 2: Horizon Value by Five Methods 11
CHAPTER 3: Factoring in the Risk 27
CHAPTER 4: Medical Device Case Study: A New Product for a New Application 41
CHAPTER 5: A New Product for an Existing Application 57
CHAPTER 6: Start-Ups 71
CHAPTER 7: Process Breakthrough! 95
CHAPTER 8: Improved Products 109
CHAPTER 9: Balanced R&D Portfolios 127
CHAPTER 10: Optimum Portfolios and the Efficient Frontier 157
Notes 183
About the Author 193
Index 195
See More
F. PETER BOER is President and CEO of Tiger Scientific Inc., a firm specializing in science and technology consulting and investments. He is the author of The Valuation of Technology and The Real Options Solution (both published by Wiley). After a successful career as a senior business and technical executive, Boer joined Yale University, where he taught valuation and other subjects. At present, he is actively engaged with several companies that are adopting option-based valuation methods for their R&D portfolios.
See More