Textbook
Diagnosis and Treatment of Mental Disorders Across the Lifespan
ISBN: 978-0-471-68928-7
1152 pages
May 2008, ©2008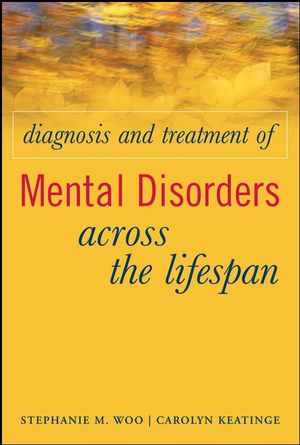 Designed to serve as a trusted desktop reference on issues of lifespan and cultural diversity for all mental health professionals, Diagnosis and Treatment of Mental Disorders Across the Lifespan expertly covers etiology, clinical presentation, intake and interviewing, diagnosis, and treatment of a wide range of DSM-IV-TR disorders that occur in people of all ages. This is an indispensable resource for all mental health professionals.
See More
Preface.
Acknowledgments.
Part I Fundamental Clinical Skills.
Chapter 1 Intake and Interviewing.
Chapter 2 Crisis Issues.
Chapter 3 Essentials of Diagnosis.
Chapter 4 Fundamentals of Treatment Planning.
Part II Clinical Disorders.
Chapter 5 Disorders of Childhood I: Pervasive Developmental Disorders.
Chapter 6 Disorders of Childhood II: Attention-Deficit/Hyperactivity Disorder and Other Disruptive Behavior Disorders.
Chapter 7 Cognitive Disorders.
Chapter 8 Substance-Related Disorders.
Chapter 9 Schizophrenia and Other Psychotic Disorders.
Chapter 10 Mood Disorders.
Chapter 11 Anxiety Disorders.
Chapter 12 Somatoform and Related Disorders.
Chapter 13 Eating, Sleep, Sexual, and Gender Identity Disorders.
Chapter 14 Personality Disorders.
Appendix Psychopharmacology.
References.
Author Index.
Subject Index.
See More
Stephanie M. Woo, PhD, is an Associate Professor of Psychology and Director of the Master of Arts in Clinical Psychology with an Emphasis in Marriage and Family Therapy Program (Malibu Campus) at the Graduate School of Education and Psychology at Pepperdine University in Los Angeles, California. She is also a consultant to RAND Corporation and Assistant Clinical Professor of Psychiatry and Biobehavioral Sciences at UCLA.
Carolyn Keatinge, PhD, is an Instructor and Clinical Supervisor at the Graduate School of Education and Psychology at Pepperdine University in Los Angeles, California and a consultant to Boys and Girls Hope California. She is the coauthor of Rapid Psychological Assessment (Wiley).
See More
Unique two-step learning experience covers both development of clinical skills and application of skills to diagnosing and treating specific disorders.
Information presented in a practical format focusing on fundamental skills while including special sections on advanced topics, making the book ideal for students and professionals.
Contains numerous tables, as well as a useful appendix on psychopharmacology.
Takes a lifespan approach to psychopathology unlike most other texts and includes topics related to diversity (culture, gender, age).
See More
"This handbook, Diagnosis and Treatment of Mental Disorders Across the Lifespan, comprehensively integrates best practices necessary for clinicians who deal with a wide range of mental disorders across the continuum of development in a practical, applied, and accessible manner. One of the unique aspects of the book is the length to which the authors go to ensure that the up-to-date information contained in the book is practical, user-friendly, and accessible to beginners in clinical practice as well as to experienced therapists." (PsycCRITIQUES, August 5, 2009)
See More
Learn more about