Wiley Concise Guides to Mental Health: Substance Use Disorders
ISBN: 978-0-471-68991-1
336 pages
February 2006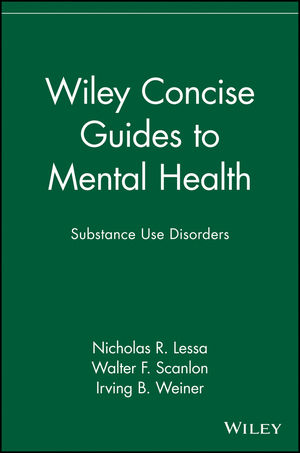 The Wiley Concise Guides to Mental Health: Substance Use Disorders
uses clear, highly accessible language to guide the reader through the entire continuum of addiction care and present the latest scientific understanding of substance use and abuse. This comprehensive, informative reference provides a complete overview of diagnosis, treatment, research, emerging trends, and other critical information about chemical addictions. Both biomedical and psychiatric conditions and complications are thoroughly covered.
Like all the books in the Wiley Concise Guides to Mental Health series, Substance Use Disorders features a compact, easy-to-use format that includes:
Vignettes and case illustrations
A practical approach that emphasizes real-life treatment over theory
Resources for specific readers such as clinicians, students, or patients
In addition to the fundamentals of chemical addictions and treatment, Substance Use Disorders covers some of the most cutting-edge topics in the field, including innovative treatment approaches, outcome demands, brain science, relapse-prevention strategies, designer drugs, spirituality, and other areas. This straightforward resource is admirably suited for a wide variety of readers, from those in the helping professions, to law enforcement personnel, to recommended reading for clients currently in treatment.
See More
Series Preface xi
Preface xiii
Acknowledgements xix
About the Authors xxi
Section One: Introduction
CHAPTER 1 Substance Use Disorders: Definitions, Treatment, and Misconceptions 3
CHAPTER 2 Understanding Mood-Altering Substances 27
Section Two: Assessment
CHAPTER 3 Assessment, Diagnosis, and Treatment Planning 47
CHAPTER 4 Levels of Care: What Happens Where? 71
CHAPTER 5 Acute Intoxication and Withdrawal Potential 89
CHAPTER 6 Biomedical Conditions, Medications, and Genetic Factors 119
CHAPTER 7 Coexisting Mental Disorders 149
CHAPTER 8 Recovery and the Living Environment 191
CHAPTER 9 Spirituality: The Neglected Dimension 209
Section Three: Treatment
CHAPTER 10 Initiating Commitment: Structured Intervention Strategies 231
CHAPTER 11 Behavioral Change: Developing Essential Counseling Skills 251
CHAPTER 12 Maintaining Commitment: Relapse Prevention Therapy 273
Index 299
See More
WALTER F. SCANLON is a Program/Workplace Consultant and Interventionist with twenty-five years' experience in behavioral healthcare services. He has taught, trained and presented nationally, and is an adjunct professor at Marymount Manhattan College and City College of New York.
See More