E-book
Securitization: Structuring and Investment Analysis
ISBN: 978-0-471-69001-6
576 pages
April 2004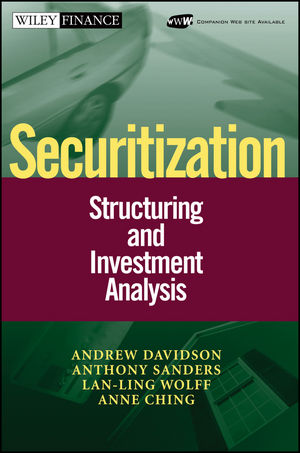 "This book fills a very important gap in the mindset of the bond structurer and the investor. Often, the two disciplines approach their tasks ignorant of the perspectives of the other side. But successful structuring requires providing the best value to investors in order to compete, and investors who don't fully understand structuring will not remain investors for long. Highly recommended!"
–Bennett W. Golub
Managing Director, BlackRock, Inc.
"An excellent primer on asset securitization, clearly written in plain English and with straightforward mathematical expressions. This book is suitable for both business school students and structured finance market practitioners."
–Joseph Hu, PhD
Managing Director, Structured Finance Ratings
Standard & Poor's
"In their new work Securitization: Structuring and Investment Analysis, Andrew Davidson et al. reinforce their preeminence in the alchemy of mortgage securitization. Anyone involved in mortgages neglects Andy's work at his peril."
–Richard T. Pratt
Chairman, Richard T. Pratt Associates
Former Chairman, Merrill Lynch Mortgage Corporation
"This book provides an insightful and accessible exploration of securitized real estate markets. As such, it provides a valuable service to those active and interested in these burgeoning markets. The authors have done a wonderful job of gracefully integrating a vast and important subject matter. Accordingly, this book also makes for an excellent textbook for those universities offering one or more courses in this rapidly growing field."
–Joseph L. Pagliari, Jr.
Kellogg School of Management
Northwestern University
See More
PART ONE: INTRODUCTION TO SECURITIZATION.
Chapter 1. The Role of Securitization.
Chapter 2. Fundamentals of Structuring.
Chapter 3. Fundamentals of Investment Analysis.
Chapter 4. Historical Performance of Asset-Backed Securities and Mortgage-Backed Securities.
PART TWO: AGENCY MORTGAGE-BACKED SECURITIES.
Chapter 5. Mortgage Loans.
Chapter 6. Agency Pass-Throughs.
Chapter 7. Fundamentals of the Interest-Rate Market.
Chapter 8. Static Analysis for Mortgage Pass-Through Securities.
Chapter 9. Mortgage-Backed Securities Prepayments.
Chapter 10. Total-Return Scenario Analysis.
PART THREE: ADVANCED MORTGAGE-BACKED SECURITIES AND ANALYSIS.
Chapter 11. Structuring CMOs, IOs, and POs.
Chapter 12. Interest-Rate Volatility, Options, and Models.
Chapter 13. Option-Adjusted Spread.
Chapter 14. Comparing Investment Alternatives.
PART FOUR: NON-AGENCY MORTGAGE-BACKED SECURITIES  AND ANALYZING CREDIT RISK.
Chapter 15. Non-Agency Mortgage Backed Securities.
Chapter 16. Collateral Performance.
Chapter 17. Home Equity and Subprime Loans.
Chapter 18. Analysis of Credit-Sensitive Mortgage-Backed Securities.
PART FIVE: ASSET-BACKED SECURITIES.
Chapter 19. Auto-Loan Asset-Backed Securities.
Chapter 20. Credit Card Asset-Backed Securities.
Chapter 21. Manufactured Housing Asset-Backed Securities.
PART SIX: COMMERCIAL MORTGAGE.
Chapter 22. Commercial Loans.
Chapter 23. Commercial Mortgage-Backed Securities.
Chapter 24. The Role of Real Estate Investment Trusts (REITs).
PART SEVEN: EUROPEAN SECURITIZATION MARKET.
Chapter 25. Development of a Market.
Chapter 26. European Residential Mortgages.
Chapter 27. European Securitization Legislation.
Chapter 28. Structuring Asset-Backed Securities in Europe.
Bibliography.
Additional Resources.
About the CD-ROM.
Index.
See More
ANDREW DAVIDSON, one of the most well-respected names in mortgage-backed securities and securitization, is President and founder of Andrew Davidson & Co., Inc., a New York—based consulting firm specializing in the application of analytical tools to investment management. The company provides consulting advice to many of the major firms in the securitization business. It is also a leading provider of prepayment and valuation models for MBS and ABS. Prior to forming the company in 1992, Davidson was a managing director at Merrill Lynch responsible for MBS, CMO, ABS, and Futures and Options Research.
ANTHONY SANDERS is the Galbreath Distinguished Scholar and Professor of Finance at The Ohio State University. During 1997 and 1998, he was director and head of asset-backed and mortgage-backed securities research at Deutsche Bank. He has published numerous articles in journals such as the Journal of Finance, Journal of Financial and Quantitative Analysis, Journal of Business, and Journal of Fixed Income.
LAN-LING WOLFF heads Fredell & Co. Structured Finance Ltd. in London, which specializes in providing structuring and arranging services for asset-backed securities all over Europe. Wolff's background in the U.S. mortgage-backed securities market and understanding of the European capital markets places her on the cutting edge of securitization globally. She specializes in residential mortgages and mortgage banking.
ANNE CHING, a senior consultant at Andrew Davidson & Co., Inc., has worked in the credit risk and investment analysis of sub-prime residential and manufactured housing sectors. She has also worked on the structuring of non-U.S. mortgage-backed securities.
The authors drew on the expertise of Andrew Davidson & Co., Inc., in preparing Securitization. The broad range of expertise of the firm's consultants, and the technical and analytical skills of the firm's analysts, provide a rich background that gives Securitization strong theoretical underpinnings, as well as a grounding in practical application of the theory and methods described in the book. Two associates from outside the firm, with additional specialized expertise, were enlisted as well.
See More