A Typographic Workbook: A Primer to History, Techniques, and Artistry, 2nd Edition
ISBN: 978-0-471-69690-2
400 pages
August 2005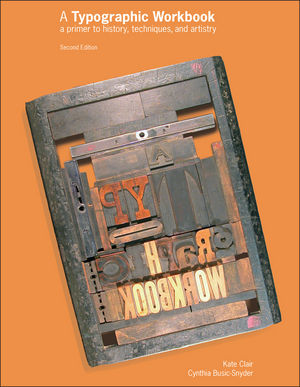 Lavishly illustrated with more than 450 images, A Typographic Workbook, Second Edition explains the process successful designers use to select, space, and creatively integrate fonts. This essential text demonstrates the use of type as a dynamic and expressive communication tool. This edition provides new and updated coverage of a broad range of topics–from a logical, clear historical overview of the craft to the latest digital technologies. Known for its highly interactive format, this Second Edition continues to include helpful review questions and multiple-choice quizzes, as well as many new projects and skill-building exercises that help readers immediately apply what they have learned. A Typographic Workbook, Second Edition is a valuable professional resource for working designers and an indispensable training tool for graphic design students.
See More
Preface v
Acknowledgments vi
1: Ancient Writing Systems 1
Prehistoric Societies; Development of Oral Communication; Early Writing Societies; Pictograph-Based Writing Systems; From Pictographs to Ideographs; The Semitic Languages; Sumerian Cuneiform; Minoan Writing; Written Languages Remain Undeciphered; Egyptian Hieroglyphics; Hieratic Script; Demotic Script; Ancient Writing Systems Evolve; The Rise of Ancient Greece; and Recovering Ancient Egyptian Hieroglyphics
2: Lettering During the Roman Empire and Middle Ages 23
Impact of the Roman Empire; Roman Triumphal Arches; Roman Lettering; Capitalis Quadrata to Rustica; Constantine Ends Christian Persecution; The Roman Empire Divided; The Scroll versus the Codex; Roman Script; Christianizing of Ireland and the Celtic Lettering; The Crumbling Empire Leads to Feudalism; Celtic Round Uncials; Lettering as a Declaration of Faith; A Unifying Force in Lettering; The Romanesque Hand Invites Innovation; The Development of the Gothic Textura Hand; Mediterranean Expansion of Muslims; Development of Rag Paper in Europe; The Late Gothic Period; Rotunda Compared to Gothic Lettering; and Setting the Stage for the Renaissance
3: Renaissance Typography and Printing 43
The Renaissance; The Beginning of Printing; Gutenberg: The Metal Craftsman; Movable, Reusable Type; Imitation of a Hand-Copied Book; The First Printing Ink; Composing a Page; Printing the 42-Line Bible; Assembly-Line Book Production; Early Typefaces; The Spread of Printing: Jenson in Italy; Printing in England; The Religious Reformation; The Pinnacle of the Renaissance; Intertwining Printeries: The Estienne Family and Simon de Colines; Aldus Mantius as Publisher; The Letter as Art; Geofroy Tory Establishes Bookmaking as an Art; France Offers a New Look in Type: Garamond; Prevalence of Italic and Script Faces; Handwriting as a Status Symbol; and Printing Innovations
4: Typography During Colonization and Industrialization 61
Colonial Era Typography; A Mathematically Perfect Font; Rococo Era Typography; Letterpress Printing; Typography During Colonial Expansion; Type Fashion in England; Writing Master Turns Typographer;
Typography in Italy; The Dawn of Industrialization; Printing Gains Momentum; Introduction of Sans Serif Fonts; A New Era in Typography: Advertising; The Practical Writing Machine; Stone Chromolithography Printing; The Victorian Era Influences Typography; and Documenting the American Civil War
5: Early Twentieth-Century Typography 77
The Arts and Crafts Movement; Kelmscott Press; Page Type Composition Speeds Up; Art Nouveau; Type for Mass Production; Offset Lithography; An Aesthetic Revolution; Post-War Typographer: Rudolph Koch; Frederic Goudy's Inspired Private Press in the United States; Edward Johnston and Eric Gill: Classic Letters; The Roaring Twenties; Dada Rejects Typographic Messages; Art Deco; The Bauhaus Aesthetic: Kandinsky and Bayer; DeStijl Movement in the Netherlands; Russian Constructivism: El Lissitzky and Kurt Schwitters; Minimal Typographic Design: Jan Tschichold; A Geometric Typeface: Paul Renner's Futura; The Great Depression; Type for Daily Newspapers; and The United States at War
6: Technology Changes the Designer's Role 99
Transitioning from Hot Type to Cold Type; Technology Changes the Designer's Role in the Production Process; Fitting Copy; Type Specification; Proofreading Tips; Proofreader's Marks; Type Design During the Second Half of the Twentieth Century; Type Design in the 1960s; Type Design During the Radical 1970s; Wolfgang Weingart; and The Dawning of the Digital Age
7: Contemporary Typography and Digital Technology 123
Émigré Magazine; Dot Matrix, Daisy Wheel and Ink Jet Printing; Zuzanna Licko; Laser Printer Technology; Jeffery Keedy; Max Kisman; Letterror; Neville Brody; Matthew Carter; Digital Font Technology; Adobe and the Development of PostScript; PostScript Type I; PostScript Type 2; PostScript Type 3; and Font Availability and Distribution
8: Character Characteristics 141
Upper- and Lowercase Letterforms; Measuring Type; Distinguishing Font Styles; Fonts, Faces and Families; Typeface Design; Type for Use in Different Sizes; Design of an Italic Font; Designing Font Variations of Weight and Proportion; Lining Figures, Small Caps, Superscript, Subscript, and Dingbats; Type Anatomy; Arms and Tails; The Spine and Shoulder; Serifs, Brackets, Terminals, and Finials; Counters and Bowls; Apices, Crotches, and Vertices; Swashes and Flags; Horizontal Spacing and Measurement; Vertical Spacing; Type Alignment; Spacing Type and Punctuation in Display Sizes; Uppercase versus Mixed Upper- and Lowercase Type; and Optical Character Alignment in Headlines
9: Type Identification and Classification 167
Black Letter; Old Style; Modern Style Typefaces; Square or Slab Serif; Sans Serif; Script and Cursive; Display and Decorative; and The Search for a Modern Classification System
10: Setting Text Type 183
Legibility and Readability; Font Design Characteristics; Letterform Proportions; Letter Spacing, Word Spacing, and Line Spacing; Arrangement of Text Type; Background Value, Color, and Contrast; Type Enclosed by Boxes and Bars; Single Spaces Following Punctuation; Typesetting Abbreviations; Using Bullets to Emphasize Listed Information; Prime Marks, Quotation Marks, and Apostrophes; Adding and Omitting Quoted Content Correctly; Using a Virgule; Hyphenation and Justification; and Widows and Orphans
11: Selecting and Combining Fonts Creatively 215
Font Selection Considerations; Typographic Personality: Denotation, Connotation, and Resonance; Determining Compositional Importance; Spacing and Grouping Type; Weight, Proportion, Value and Texture; Positive and Negative; Varying Position and Orientation; and Varying Font Structure and Style
12: Organizing Typographic Compositions 229
Basic Page Layout Considerations; Typical Layout Considerations; Establishing a Grid; Margins, Gutters
and Alleys; Mastheads; Headlines and Subheads; Headers and Footers; Body Copy; Callouts and Pull Quotes; Tables, Lists, and Forms; Captions, Bylines and Credits; and Sidebars and Initial Caps
Appendix A: Font sample charts 249
Appendix B: Key concepts 347
Appendix C: Key players 375
Credits 380
Bibliography 381
Index 383
See More
KATE CLAIR
is a general partner in Hats-Off Impressions, a design firm based in Binghamton, New York. She is also a faculty member in the Communication Design Department at Kutztown University in Kutztown, Pennsylvania.
CYNTHIA BUSIC-SNYDER is Associate Professor of Graphic Design and Coordinator of Graphic Design Studies in the Department of Art at Mohawk Valley Community College in Utica, New York.
See More
A revised historical overview that presents a clear, well-organized picture of our typographic past
Completely updated throughout, with 30% new or revised material
Expands on the workbook concept, with many new skill-building exercises, projects, review questions and quizzes
New chapter with revised and expanded coverage of new digital technologies
New chapter organization to make teaching the history of typography easier for instructors
Newly added Character Per Pica chart 
See More
Uses extensive visual examples to illustrate the use of type as an expressive communication tool

Covers font selection, spacing, and creative integration while simultaneously providing step-by-step guidance and numerous practice exercises
Offers a clear historical overview of type and typographic technologies
Provides an in-depth explanation of the formal qualities of different typefaces
Fundamental coverage of computer terms and principles
Web-based solutions manual available for instructors
See More
Instructors Resources
Digital evaluation copy available for this title
Request Copy

See More
See Less
Learn more about