Wetlands, 4th Edition
ISBN: 978-0-471-69967-5
600 pages
August 2007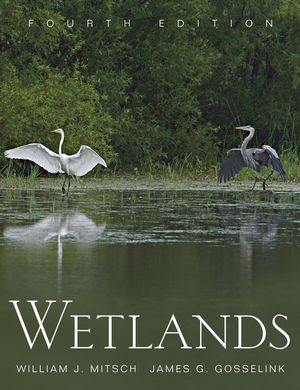 Praise for the previous editions of
Wetlands
:
"Wetlands, the field of study, would not be what it is without Wetlands, the book."
——Bill Streever, Wetlands, 2001
"The Third Edition of this highly successful book manages to set new standards in presentation and content to confirm its place as the first point of reference for those working or studying wetlands."
——Chris Bradley, University of Birmingham, UK, Regulated Rivers: Research and Management
"This book is the wetlands bible...the most wide-ranging [book] on the subject."
——Carl Folke, Royal Swedish Academy of Sciences, Land Use Policy
"The single best combination text and reference book on wetland ecology."
——Joseph S. Larson, University of Massachusetts, Journal of Environmental Quality
"First on my list of references to recommend to someone new to wetland policy management or science."
——Jay A. Leitch, North Dakota State University, Water Resources Bulletin
For more than two decades, William Mitsch and James Gosselink's Wetlands has been the premier reference on wetlands for ecologists, land use planners, and water resource managers worldwide—a comprehensive compendium of the state of knowledge in wetland science, management, and restoration.
Now Mitsch and Gosselink bring their classic book up to date with substantial new information and a streamlined text supplemented with a support web site. This new Fourth Edition maintains the authoritative quality of its predecessors while offering such revisions as:
Refocused coverage on the three main parts of the book: 1. An introduction to the extent, definitions, and general features of wetlands of the world; 2. Wetland science; and 3. Wetland management.

New chapter on climate change and wetlands that introduces the student to the roles that wetlands have in climate change and impact that climate change has on wetlands.

Increased international coverage, including wetlands of Mexico and Central America, the Congolian Swamp and Sine Saloum Delta of Africa, the Western Siberian Lowlands, the Mesopotamian Marshland restoration in Iraq, and the wetland parks of Asia such as Xixi National Wetland Park in eastern China and Gandau Nature Park in Taipei, Taiwan. This expanded coverage is illustrated with over 50 wetland photographs from around the world.

Several hundred new refer?ences for further reading, up-to-date data, and the latest research findings.

Over 35 new info boxes and sidebars provide essential background information to concepts being presented and case studies of wetland restoration and treatment in practice.
See More
Preface.
PART 1. INTRODUCTION.
1. Wetlands: Human History, Use, and Science.
2. Wetland Definitions.
3. Wetlands of the World.
PART 2. THE WETLAND ENVIRONMENT.
4. Wetland Hydrology.
5. Wetland Biogeochemistry.
6. Biological Adaptations to the Wetland Environment.
7. Wetland Ecosystem Development.
8. Wetland Classification.
PART 3. WETLAND MANAGEMENT.
9. Human Impacts and Management of Wetlands.
10. Climate Change and Wetlands.
11. Values and Valuation of Wetlands.
12. Wetland Creation and Restoration.
13. Treatment Wetlands.
14. Wetland Laws and Protection.
Appendix A. Wetland Losses by State in the United States.
Appendix B. Contracting Parties to the Ramsar Convention on Wetlands.
Appendix C. Useful Conversion Factors.
Glossary.
References.
Index.
See More
William J. Mitsch is Distinguished Professor of Environment and Natural Resources and Director, Wilma H. Schiermeier Olentangy River Wetland Research Park, The Ohio State University.? He was the winner in 2004, with Sven Jørgensen of Denmark, of the Stockholm Water Prize and, in 2007, the Society of Wetland Scientists Lifetime Achievement Award.
James G. Gosselink is Professor Emeritus at the Center for Coast and Environment at Louisiana State University.He was awarded the Society of Wetland Scientists Lifetime Achievement Award in 1998.
See More
7 wetland-types chapters moved  to a support website
More manageable for a one-semester course
New chapter on "Climate Change and Wetlands"
New material from the 2007 International Panel on Climate Change report
Expanded international coverage with expanded coverage of the Great Plains Playas in the United States, the wetlands of Mexico and Central America, the Congolian Swamp and Sine Saloum Delta of Africa, the Western Siberian Lowlands, and a new wetland phenomenon in Asia—wetland parks such as XiXi National Wetland Park in eastern China and Gandau Nature Park in Taipai, Taiwan.
37 new feature boxes provide examples, applications and commentary to supplement the chapter's discussion
See More
Core concepts and case studies from wetland types chapters in the Third edition now integrated throughout book.
New support website houses URL's, figures from the book for use with Instructor presentations, and over 200 full color photographs of wetlands, estuaries and management projects.
Updated throughout with new references for further reading and up-to-date data and the latest research findings
See More
Instructors Resources
ENHANCE YOUR COURSE

Instant access to textbooks as eTextbooks.
Learn more

Digital evaluation copy available for this title
Request Copy

See More
See Less