Pursuit of Passionate Purpose: Success Strategies for a Rewarding Personal and Business Life
ISBN: 978-0-471-70324-2
304 pages
December 2004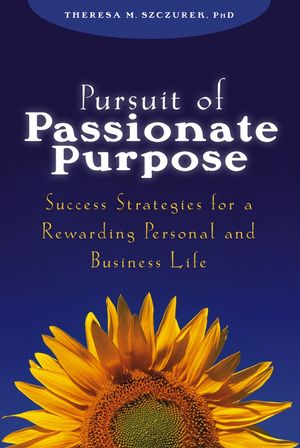 In Pursuit of Passionate Purpose, self-help guru Theresa Szczurek reveals that the real key to a successful and happy life is in knowing what it is that you truly desire and pursuing it with determination. Based on the everyday wisdom of eighty successful people from all walks of life, along with the practical strategies she used to pursue her own passion, Szczurek presents a proven, step-by-step plan for effectively pursuing whatever your passionate purpose is. By emulating the six strategies/characteristics that almost all truly successful people share, you?ll discover who you really are, what you really want from life, and how to achieve it.
See More
People Whose Stories Are Prominently Shared.
Acknowledgments.
PART ONE: Introduction: Get on Your Path.
1. Pursuit Brings Real Rewards.
2. Profiles of People on Their Path.
PART TWO: Follow the Proven Process.
3. Know and Nurture the Person.
4. Find Passionate Purpose.
5. Pursue Purpose.
6. Assess Progress.
PART THREE: Apply Success Strategies.
7. Polarity Strategy.
8. Attraction Strategy.
9. Persistence Strategy.
10. Allowing Strategy.
11. Connections Strategy.
12. Pack Strategy.
PART FOUR: Closing: Practical Prescription.
13. Put Passionate Purpose to Work.
Epilogue.
APPENDIX A: The "Pursuit of Passionate Purpose" Formula at a Glance.
APPENDIX B: Tested Meditation Techniques.
Notes.
About the Author.
Index.
See More
THERESA M. SZCZUREK, PhD, the catalyst for extraordinary results, helps organizations and people succeed by aligning their passions with purpose. Offering success strategies used in taking her technology company to over $40 million in six years, she is now an award-winning business consultant and speaker working with emerging and established firms worldwide in marketing, strategic planning, and organization development.
See More