Textbook
Leading Organizations from the Inside Out: Unleashing the Collaborative Genius of Action-Learning Teams
ISBN: 978-0-471-70397-6
194 pages
July 2004, ©2004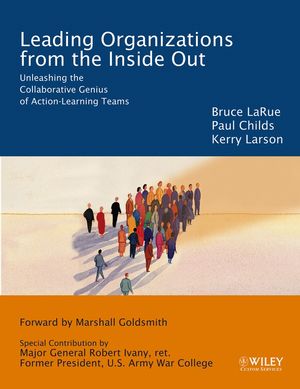 This innovative book is designed to drastically shorten the time needed to effectively implement change initiatives by helping readers understand both the behavioral and operational aspects of organizational change. The authors demonstrate how, through Action-Learning Teams, organizations can accomplish tangible business objectives while creating superior workforce development. They show leaders how to overcome resistance to change by involving critical stakeholders, including customers, suppliers, and cross-functional teams, in the design and deployment of change initiatives, resulting in drastically shortened time horizons for the successful implementation of change.
See More
Acknowledgements.
Foreword by Marshall Goldsmith.
PART I. WHY ACTION-LEARNING TEAMS?
Chapter 1. Introduction.
Chapter 2. What are Action-Learning Teams and How Can They Benefit Your Organization?
Chapter 3. The New Strategic Imperative: Speed, Adaptability and Flexibility.
Chapter 4. The Action Context as Learning Environment.
Chapter 5. Action-Learning Teams and the Transformation of the U.S. Army.
Chapter 6. Leading Action-Learning Teams: From Command and Control to Distributed Intelligence.
Chapter 7. Action-Learning Teams as a Means of Knowledge Worker Development.
PART II. ACTION-LEARNING TEAMS AND THE DESIGN AND DEPLOYMENT OF STRATEGIC CHANGE.
Chapter 8. Getting Started with Action-Learning.
Chapter 9. Inquiry: Discovering the Gaps that Impede Effectiveness.
Chapter 10. Design: Innovating the Road Map Forward.
Chapter 11. Deployment: Transformation in Action.
Chapter 12. Integration: Aligning Core Systems and Processes to Achieve Sustained Results.
PART III. SUPPLEMENTAL MATERIALS.
Chapter 13. The executive Master Class: Cyberspace and the New Frontiers of Executive Education.
Chapter 14. Integrating Corporate and Higher Education Learning Practices in an Action-Learning Context.
References.
See More
Dr. LaRue
has focused much of his career on the emergence of the knowledge economy and its implications for the development of leadership competencies in complex organizations. As a consultant and professor, Bruce has worked with managers and executives from industries such as aerospace, telecommunications, network technologies, pharmaceuticals, petrochemicals, financial services, and the non-profit sector.
Paul Childs has served as a senior advisor in computer technology, telecommunications, investment banking and media industries.  He has provided strategic and investment planning for the film and television, computer, and wireless industries.  Paul has developed unique methodologies and workshops for creating dramatic, impactful and sustainable change in corporations all over the world, many of which appear in this book.  His workshops for senior executives and entrepreneurs have been taught worldwide in Los Angeles, London, New York, Spain, Mexico and delivered in multiple languages across diverse cultures.
Kerry Larson is an experienced senior executive with an extensive background in organizational development and executive coaching.  As a senior executive he helped create powerful work environments at AT&T Wireless, McCaw Communications, Teledesic, and Avia International.  He has been on the faculty of three universities and has consulted with a variety of organizations from industries such as telecommunications, financial services, biotech, health care, manufacturing, and software.
See More